Chu calls on Taiwan's 'silent strength'
VINDICATED: Deputy Legislative Speaker Hung Hsiu-chu agreed to lead Chu's team of campaign advisers, as he 'completely agrees with my cross-strait policy platform'
Chinese Nationalist Party (KMT) presidential candidate Eric Chu (朱立倫) and his running mate, former Council of Labor Affairs minister Jennifer Wang (王如玄), established their national campaign headquarters in Taipei yesterday, calling on Taiwan's "silent strength" to stand up to "defend the Republic of China."
The KMT's heavyweights all showed up for the opening ceremony, including President Ma Ying-jeou (馬英九), Vice President Wu Den-yih (吳敦義), Legislative Speaker Wang Jin-pyng (王金平), former vice president Vincent Siew (蕭萬長), former vice president Lien Chan (連戰) and former party chairman Wu Po-hsiung (吳伯雄).
Chu appealed to the nation's "mainstream" public, who he said are "moderate, rational and appreciate the 'middle way.'"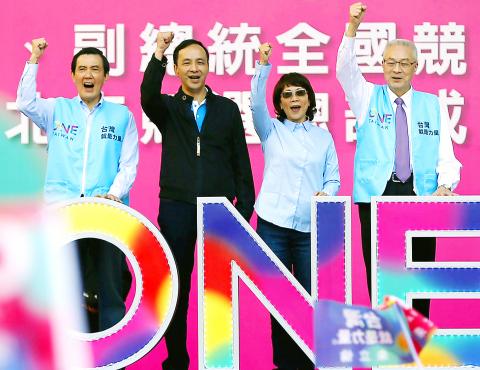 From left, President Ma Ying-jeou, Chinese Nationalist Party (KMT) presidential candidate Eric Chu, vice presidential candidate Jennifer Wang and Vice President Wu Den-yih cheer with supporters at the launch of Chu's national campaign headquarters in Taipei yesterday.
Photo: EPA
He called on people to show their pent-up "silent strength," a popular catchword that has been used by KMT politicians since last year's Sunflower movement that is intended to solicit support from a segment of the public who, unlike the movement's more vociferous proponents, "made no noise" during the demonstrations.
Ma recounted what he said were his policy successes, citing the increase in the number of nations that have granted Taiwanese passport holders visa-free entry, "from 54 under the rule of former presidents Lee Teng-hui (李登輝) and Chen Shui-bian (陳水扁)" to 158 now.
"Both Chu and [Democratic Progressive Party (DPP) presidential candidate] Tsai Ing-wen (蔡英文) have served as vice premier, but in 2006, when the DPP was the ruling party, the number of people who committed suicide was 4,406, the most in Taiwan's history, while it is now less than 3,500," Ma said.
"The number of fraud cases has also dropped from 41,000 to 21,000, which is a big difference," he added.
Tsai's nuclear-free energy policy is "worrying," as "Taiwan's industry will have a hard time keeping up if we lack electricity," Ma said, calling on the public to vote for a president that would not allow the nation to run out of electricity and would keep cross-strait peace by upholding the so-called "1992 consensus" — a term former Mainland Affairs Council chairman Su Chi (蘇起) admitted making up in 2000, which refers to a tacit understanding between the KMT and the Chinese government that both sides of the Taiwan Strait acknowledge there is "one China," with each side having its own interpretation of what "China" means.
Siew said that "one-party rule is bad for democracy," referring to the possibility of a DPP-ruled central government and a DPP majority in the legislature following the Jan. 16 elections.
Deputy Legislative Speaker Hung Hsiu-chu (洪秀柱), whose presidential candidacy was rescinded by the party in October nearly three months after she was nominated, also appeared at the event yesterday, standing on the same campaign stage with Chu for the first time since her replacement.
"Let the past be the past," Hung said, asking supporters to support Chu for cross-strait peace, the nation's future and the hopes of future generations.
However, Hung's stumping yesterday was not the first public meeting between Chu and Hung since her replacement, as they both on Friday night appeared at an event organized by the Association for Chinese Unity, a group that touts "unity for the Zhonghua minzu [Chinese ethnic group, 中華民族]."
China Unification Promotion Party founder and former gang leader Chang An-le (張安樂) and New Party Chairman Yok Mu-ming (郁慕明) were among the guests invited to Friday's event.
Hung said that on Friday she agreed to lead Chu's team of campaign advisers after a long discussion with Chu, adding: "Chairman Chu said he completely agrees with my cross-strait policy platform."
By recognizing her and "going against mainstream" criticism, Hung said that Chu has vindicated her after her "one China, same interpretation" policy had "pushed [her] into the abyss."
Comments will be moderated. Keep comments relevant to the article. Remarks containing abusive and obscene language, personal attacks of any kind or promotion will be removed and the user banned. Final decision will be at the discretion of the Taipei Times.