Poll finds 52.7% say Ma did not uphold dignity
NO 'WIN-WIN': The poll found 49.6% said the meeting benefited China, and only 20% Taiwan. It also showed support for Tsai at 46.2%, while Chu had 20.4% support
A survey released yesterday found 52.7 percent of respondents said that President Ma Ying-jeou (馬英九) failed to defend Taiwan's sovereignty and dignity in his meeting with Chinese President Xi Jinping (習近平) in Singapore on Saturday last week.
The poll, conducted by Taiwan Indicator Survey Research, also found that 56.2 percent of respondents said that Ma's statement in the meeting does not represent their views, with only 22.2 percent saying that Ma represented their views.
The poll showed that almost half of the respondents — 49.6 percent — agreed that the Ma-Xi meeting benefited China, while only 20 percent said they believed the meeting benefited Taiwan.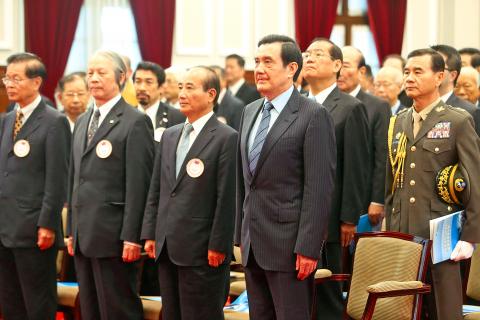 President Ma Ying-jeou, front row right, and Legislative Speaker Wang Jin-pyng, second right, yesterday attend a ceremony to mark the anniversary of Sun Yat-sen's birthday at the Presidential Office in Taipei.
Photo: CNA
Only 28.6 percent of the poll's respondents agreed with the statement that "both sides across the Strait belong to one China," which Xi declared in the meeting's closed-door discussion session, while 58.4 percent disagreed, the poll showed.
Although Ma repeatedly emphasized that he had "said all that should be said" in the meeting and that he had not only addressed the "one China, with each side having its own interpretation" (一中各表) formula, but had also reiterated the Republic of China's sovereignty, only 30.2 percent believe that Ma had defended national sovereignty and dignity, the poll said.
The poll also showed that 42 percent of respondents said that Ma is "pro-unification," the highest percentage on record since July 2011.
However, the poll also showed that 73 percent of respondents support regular meetings between Taiwan and China's leaders, while only 14.5 percent said they oppose such meetings.
Meanwhile, the poll found Democratic Progressive Party presidential candidate Tsai Ing-wen (蔡英文) continued to pull further ahead of her opponents with 46.2 percent support.
Chinese Nationalist Party (KMT) presidential candidate Eric Chu (朱立倫) has 20.4 percent support, while People First Party presidential candidate James Soong (宋楚瑜) trailed at 10.4 percent, the poll said.
The survey collected 1,004 valid samples from Sunday through Tuesday and has a margin of error of 3.1 percentage points.
Comments will be moderated. Keep comments relevant to the article. Remarks containing abusive and obscene language, personal attacks of any kind or promotion will be removed and the user banned. Final decision will be at the discretion of the Taipei Times.