Ma defends significance of meeting with Xi
OPPORTUNITY: Premier Mao Chi-kuo said that the Singapore summit was a chance to show the world contributions by Taiwanese to peace in the Asia-Pacific region
In response to criticism over his meeting in Singapore with Chinese President Xi Jinping (習近平), President Ma Ying-jeou (馬英九) defended his performance while on board a flight back to Taiwan, which arrived at Taiwan Taoyuan International Airport early yesterday morning.
During the flight, Ma told reporters that the most significant result of his meeting with Xi was that leaders from the two sides of the Taiwan Strait had finally met and expressed their willingness to jointly discuss relevant issues.
"There are too many problems across the Strait that need to be dealt with. While a number of them have been resolved over the past few years, there are still many left, which is why we require a communication platform at a higher level," Ma said, adding that the meeting was just a first step.
President Ma Ying-jeou yesterday morning waves to reporters as he arrives at Taiwan Taoyuan International Airport from Singapore following a meeting with Chinese President Xi Jinping.
Photo: CNA
Asked how he felt about Xi's response to Taiwanese concern over the threat China's military poses to Taiwan, Ma said he was "not very satisfied" with Xi's answer that the deployments did not target Taiwan.
"I told Xi that Taiwanese are rather concerned about the issue and hope China could make some gestures of goodwill... While I am not content with Xi's response, at least I started the dialogue and I will bring up the matter again if given the opportunity in the future," Ma said.
Ma added that he said everything he "was supposed to say" in front of Xi, including two mentions of the Republic of China (ROC) Constitution, as well as one mention each of the ROC and "one China, different interpretations."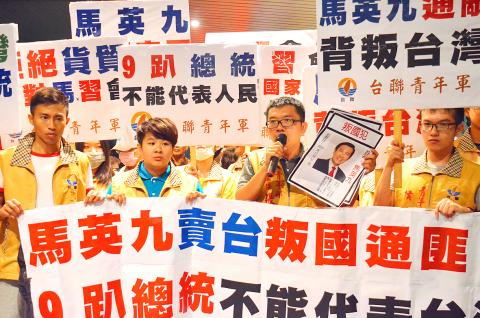 Members of the Taiwan Solidarity Union's youth wing yesterday hold up signs and banners at Taiwan Taoyuan International Airport accusing President Ma Ying-jeou of treason as Ma returned from meeting with Chinese President Xi Jinping in Singapore.
Photo: Chiu I-tung, Liberty Times
However, Xi did not make any significant reactions to his references to the ROC, Ma said, adding that he did not say "ROC president" during their meeting.
Shrugging off Democratic Progressive Party (DPP) presidential candidate Tsai Ing-wen's (蔡英文) criticism of the meeting's outcome, Ma said he had clearly mentioned "one China, different interpretations" and the so-called "1992 consensus" — a term former Mainland Affairs Council chairman Su Chi (蘇起) admitted making up in 2000 that refers to a tacit understanding between the Chinese Nationalist Party (KMT) and the Chinese government that both sides acknowledge there is "one China," with each side having its own interpretation of what "China" means.
"'One China, different interpretations' means we can have different interpretations of the term 'one China,' while the '1992 consensus' allows both sides to verbally state their respective interpretations of what 'one China' means," Ma said.
"This is what gives us room [to maneuver]. Without this space, why would it be called the '1992 consensus?'" he added.
In regards to his performance at the meeting, Ma said he fulfilled nearly all of his original objectives, including bringing up the "1992 consensus"; "one China, different interpretations"; and the Constitution's prohibition on remarks such as "two Chinas," "one China, one Taiwan" and Taiwanese independence.
"Some have misunderstood my words as an attempt to fawn to the People's Republic of China, but it was not. These terms are forbidden by our own Constitution," Ma said.
Meanwhile, Premier Mao Chi-kuo (毛治國) said the Ma-Xi meeting had major historic significance, as both leaders took an important first step toward more institutionalized meetings in the future. Mao made the remarks yesterday afternoon while visiting the Taipei International Travel Fair, at which he met with travel industry representatives.
"This historic event has drawn global attention, and we, the people in Taiwan, should be united to tell the world about the importance of having peaceful cross-strait relations," Mao said. "This is also an opportunity to let the world know about the contributions made by Taiwanese to peaceful development in the Asia-Pacific region."
When asked if Chinese tourists would be allowed to make transit stops in Taiwan while he remains in office, Mao said that is "one of the follow-up issues that we will have to work on."
Comments will be moderated. Keep comments relevant to the article. Remarks containing abusive and obscene language, personal attacks of any kind or promotion will be removed and the user banned. Final decision will be at the discretion of the Taipei Times.