Taiwan in charge of its future: Tsai
REACTION: People First Party presidential candidate James Soong said that a lack of preparation wasted a rare opportunity to move past the '1992 consensus'
Only Taiwanese can determine the nation's future and future cross-strait relations through the Jan. 16 elections, Democratic Progressive Party (DPP) presidential candidate Tsai Ing-wen (蔡英文) said yesterday, as she sharply criticized President Ma Ying-jeou's (馬英九) performance in Singapore on Saturday.
Tsai criticized the remarks Ma made after his meeting with Chinese President Xi Jinping (習近平), saying they did not represent mainstream public opinion in Taiwan.
"Ma's performance at yesterday's [Saturday's] meeting has left many Taiwanese disenchanted and even fuming," Tsai wrote on Facebook.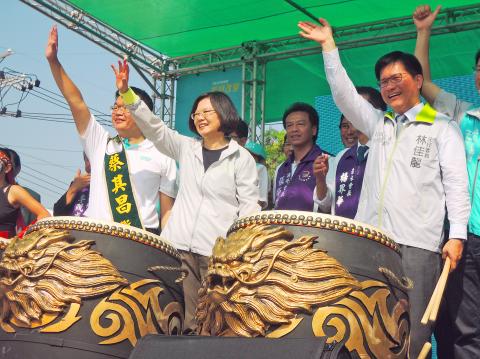 From left, Democratic Progressive Party (DPP) Legislator Tsai Chi-chang, DPP presidential candidate Tsai Ing-wen and Taichung Mayor Lin Chia-lung wave to supporters at the opening of a joint election campaign headquarters in Taichung yesterday.
Photo: Spencer Chang, Taipei Times
"That is because, as far as Taiwanese are concerned, they only see Ma's complacency over his extended handshake with Xi at the meeting as recognized by the international community," Tsai wrote.
"What was absent throughout the event was [any mention of] Taiwan's democracy and the Republic of China [ROC]," Tsai added.
Ma's landmark meeting with Xi at the Shangri-La Hotel was the first official meeting between cross-strait leaders since the Chinese Nationalist Party (KMT) was defeated by the Chinese Communist Party in the Chinese Civil War in 1949.
Ma failed in his duties as the nation's leader to make his people proud or feel safe, and instead created more anxiety and social division, Tsai said.
"From Ma's mouth, democracy, freedom and the 23 million Taiwanese people's right to choose freely all disappeared. For the sake of his personal political status, Ma has confined Taiwan's future to a political box and deprived its citizens of their right to make their own decisions," she said.
Ma's rhetoric has strayed from Taiwan's "status quo" and failed to represent mainstream opinion, Tsai said, adding that only the "new public opinion" voiced through the January polls could decide Taiwan's future.
Tsai said she could fully understand the public's anxiety and unease following Saturday's meeting.
"Luckily, Taiwan still has its strong shields: people power and democratic systems, which are manifested as ballots in voters' hands. We have many ways to express our discontent, but the most powerful one will be to remove the current administration with our ballots on Jan. 16," Tsai said.
People First Party presidential candidate James Soong (宋楚瑜) yesterday also voiced regret over Ma's actions, saying the president failed as a national leader to fully express his stances on the existence and dignity of the ROC, as well as the fundamental rights and welfare of Taiwanese.
Soong, who had welcomed the meeting, said that Ma's remarks and failure to mention the ROC during his seven-minute speech in Singapore prior to the meeting indicated that the "one China" principle was the cornerstone of the so-called "1992 consensus."
"It was a major step backward for safeguarding the existence of the ROC... It is particularly preposterous that Ma, who served as head of the Mainland Affairs Council, would forget the ROC," Soong said.
The "1992 consensus" refers to a supposed understanding reached during cross-strait talks in 1992 that both Taiwan and China acknowledge that there is "one China," with each side having its own interpretation of what that means. Former Mainland Affairs Council chairman Su Chi (蘇起) admitted that he had made up the term in 2000 while still in office.
Soong said Xi agreeing to the meeting constituted a tacit recognition of the existence of the ROC government, but Ma's performance wasted a rare chance to break through the "1992 consensus" and reinforce the concept of separate governments across the Taiwan Strait.
The lack of perspective and preparation on the part of Ma's administration, coupled with his over-eagerness to meet Xi, reduced the meeting to a political spectacle, with the Ma administration playing the role of a desperate supporting actor, Soong said.
Comments will be moderated. Keep comments relevant to the article. Remarks containing abusive and obscene language, personal attacks of any kind or promotion will be removed and the user banned. Final decision will be at the discretion of the Taipei Times.