Three brothers dead after shots fired at Neihu office building
The authorities are investigating an alleged murder-and-suicide that resulted in the death of three brothers, members of a prominent Taipei family which owns the Miramar Shopping Mall (美麗華百樂園) in the capital's Neihu District (內湖).
Police said shots were fired during a corporate meeting at the offices of Mayfull Food Corp (美福食集) in Neihu yesterday morning.
Huang Ming-huang (黃明煌) and Huang Ming-jen (黃明仁) were killed by bullet wounds to the head, allegedly fired by their younger brother, Huang Ming-te (黃明德).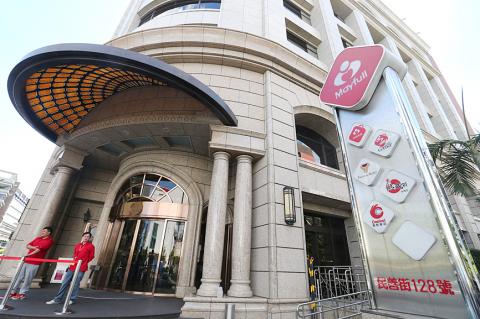 Security guards stand outside a building in Taipei's Neihu District following a shooting incident on the building's roof yesterday morning.
Photo: CNA
After receiving reports of gunshots, police officers arrived to find Huang Ming-te standing on the building's seventh floor balcony holding a handgun. Despite the officers' attempts to talk him down, he shot himself, fell to the ground and was later pronounced dead at the Tri-Service General Hospital.
All three brothers were in their 50s. The Huang family, which reportedly owns numerous plots of land and real estate in the Dazhi area worth more than NT$100 billion (US$3.06 billion).
The brothers' father, the late tycoon Huang Jung-tu (黃榮圖), built up a large business empire, which included Mayfull Food Corp, one of the nation's major meat importers and distributors, and the Miramar Group, a hotel and retail chain.
Police said Huang Ming-te, 54, took an Italian-made Tanfoglio pistol to the business meeting yesterday morning.
After a dispute broke out over dividing up the business, Huang Ming-te allegedly took out the pistol and fired several shots at his two elder brothers, before he later committed suicide with a single shot to his own head.
Overall, 13 shots were fired, while nine bullets remained in the pistol, police said.
Another brother, Huang Ming-tang (黃明堂), was also at the meeting when the shooting began. He quickly ran from the scene and locked himself in another suite, before calling the police.
"This is a terrible family tragedy, I have lost three brothers today, and now I must help the families with the funerals and the other arrangements," Huang Ming-tang said when interviewed by reporters. "It was due to a family dispute among brothers and has nothing to do with the business operations of the companies."
Media reports said Huang Jung-tu had been married twice and had seven sons, while he had another two sons from a relationship outside of marriage.
There have been a number of lawsuits between the families of the two wives over their shares of the business empire.
Comments will be moderated. Keep comments relevant to the article. Remarks containing abusive and obscene language, personal attacks of any kind or promotion will be removed and the user banned. Final decision will be at the discretion of the Taipei Times.