Government defends Xi meeting
'SNEAKY AND SECRETIVE': The Presidential Office brushed off criticism by the DPP, saying when in office it also sought a meeting and that 80% of the public support it
Saturday's planned meeting between President Ma Ying-jeou (馬英九) and Chinese President Xi Jinping (習近平) is aimed at consolidating cross-strait peace and the "status quo," and does not involve election-motivated political machinations or backroom deals, Presidential Office spokesman Charles Chen (陳以信) said yesterday.
"President Ma is no longer chairman of the Chinese Nationalist Party [KMT] and has distanced himself from party affairs. The aims of the Ma-Xi meeting are to strengthen peace and the 'status quo' across the Taiwan Strait, for the sake of the public interest and the future development of cross-strait ties," Chen said.
Chen made the remarks less than a day after he confirmed reports of a planned meeting in Singapore on Saturday — only after the Chinese-language newspaper Liberty Times (the Taipei Times' sister paper) broke the news in an exclusive story published late on Tuesday evening.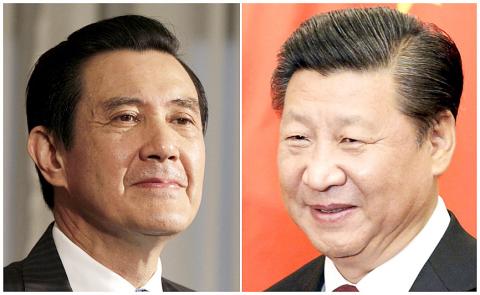 A combination photograph shows President Ma Ying-jeou, left, listening to a question during an interview at the Presidential Office in Taipei on June 1, 2012, and Chinese President Xi Jinping smiling before a meeting at the Diaoyutai State Guesthouse in Beijing, China, on Oct. 29.
Photo: Pichi Chuang and Muneyoshi Someya, Reuters
The announcement triggered an outpouring of criticism from the opposition parties, including the Democratic Progressive Party (DPP), and other sectors of society.
They accused Ma of using the meeting as electoral leverage and engaging in "sneaky and secretive" dealings with China.
Shrugging off the criticism, Chen said the DPP had also sought a meeting with the Chinese president during its eight years in power, citing statements made in 2005 by then-Mainland Affairs Council (MAC) chairman Joseph Wu (吳釗燮) at the legislature that "a meeting between cross-strait leaders is an inevitable step toward permanent cross-strait peace."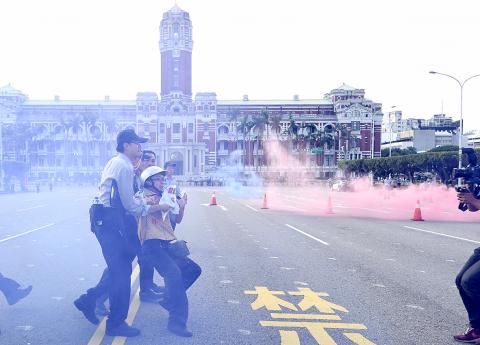 Police yesterday arrest a Taiwan Solidarity Union member for throwing smoke bombs in front of the Presidential Office Building.
Photo: George Tsorng, Taipei Times
"What really constitutes election-motivated manipulation is the DPP's change of mind, as well as its double standards and flip-flopping," Chen said.
Every process regarding the Ma-Xi meeting would be subjected to legislative scrutiny, with the council delivering reports to the legislature before and after the event, Chen said, adding that there are absolutely no "backroom dealings" between Taipei and Beijing.
Chen said that the meeting is to be carried out under the principles of "equality and dignity" at a third locale, during which no political negotiation would be conducted, nor any agreement signed.
"The two leaders will not make a joint statement, as the sole objective of the meeting is to create competitive advantages for Taiwan's future development, and ensure the sustainability of cross-strait peace and prosperity," Chen said.
Chen went on to express gratitude to Legislative Speaker Wang Jin-pyng (王金平) for his statements made after being briefed on the matter by Premier Mao Chi-kuo (毛治國) and Presidential Office Secretary-General Tseng Yung-chuan (曾永權) yesterday morning.
"Wang praised Mao and Tseng for taking the initiative to inform the legislature of the meeting, and communicating with the ruling and opposition parties, saying they are an act of respect to public opinion," Chen said.
Separately, MAC Minister Andrew Hsia (夏立言) said the Ma-Xi meeting is supported by a large majority of the public.
"An internal survey conducted by the council showed about 80 percent of respondents favored a meeting between cross-strait leaders that is held with equality, dignity and transparency," Hsia told a press conference in Taipei to brief reporters on Ma's schedule.
Hsia said 76.6 percent of those polled also agree with Xi and Ma referring to each other as "Taiwanese leader" and "Chinese leader" respectively.
Hsia said Ma is due to board a chartered plane on Saturday morning with an entourage of six officials — himself, Tseng, National Security Council Secretary-General Kao Hua-chu (高華柱), Presidential Office Deputy Secretary-General Hsiao Hsu-tsen (蕭旭岑), National Security Adviser Chiu Kun-shuan (邱坤玄) and MAC Deputy Minister Wu Mei-hung (吳美紅).
Ma is to meet with Xi in the afternoon at the Shangri-La Hotel, where they plan to pose for photographs before conducting a closed-door meeting, Hsia said.
"The two leaders have planned to hold a separate press conferences afterward and will join each other for dinner. Ma is due to return to Taiwan that night," Hsia said.
As for their titles, Hsia said Ma and Xi are to attend the meeting in their respective capacities as "Taiwanese leader" and "Chinese leader," and will address each other as "Mister."
Characterizing the unprecedented meeting as "a canal being formed when water comes," Hsia said that since the top officials in charge of cross-strait affairs from both sides have met on six occasions, he and his Chinese counterpart, Taiwan Affairs Office Minister Zhang Zhijun (張志軍), agreed during their second meeting in Guangzhou, China, last month that it was time to take cross-strait meetings to the next level.
Hsia expressed the hope that meetings between the cross-strait leaders would become regular practice in the future, regardless of who is the president.
Comments will be moderated. Keep comments relevant to the article. Remarks containing abusive and obscene language, personal attacks of any kind or promotion will be removed and the user banned. Final decision will be at the discretion of the Taipei Times.