More summoned over escort ring
Prosecutors investigating a Taipei-based international escort service yesterday summoned more people for questioning, with some saying they were deceived by false promises, had their passports confiscated when they arrived in the US and were forced to provide sex services under the threat of violence.
With more people providing testimony yesterday, the Taipei District Prosecutors' Office said it would be questioning a total of 30 people in the coming days.
Eight women have claimed that they were victims of a prostitution ring allegedly headed by a woman, Tai Chun-yi (戴君儀), who procured female models and starlets for short-term work as "business trip companions" for rich businessmen in Taiwan and other countries.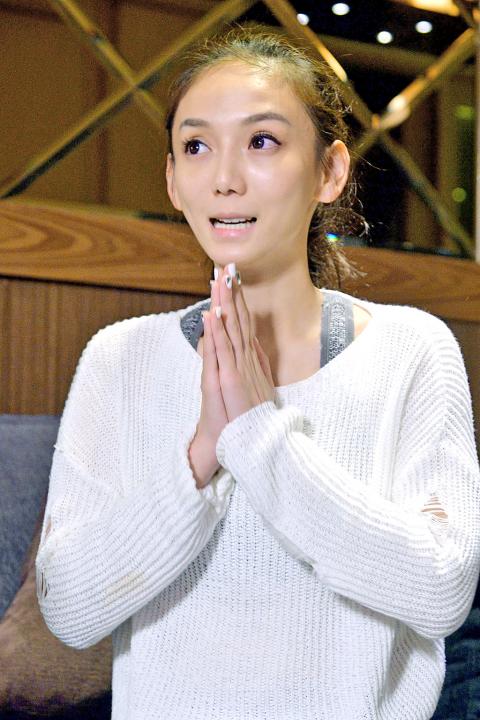 Johanne Liou talks to reporters on Wednesday in Taipei, following allegations she was involved in an international prostitution ring.
Photo: CNA
A female model told prosecutors that Tai and her assistants would send text messages via telephone or social media with offers of free overseas trips in exchange for accompanying rich men on shopping and sightseeing trips during daytime hours.
However, she said that when she arrived in the US, Tai told her she would also be required to provide sex services for a male client. When she refused, she said Tai resorted to threats, demanding that she pay for her airfare, hotel and dining expenses.
The model said she agreed to pay Tai back and asked to be let go, but Tai told her: "I have your passport and your ID in my hands. You do not know anybody here, so where can you go?"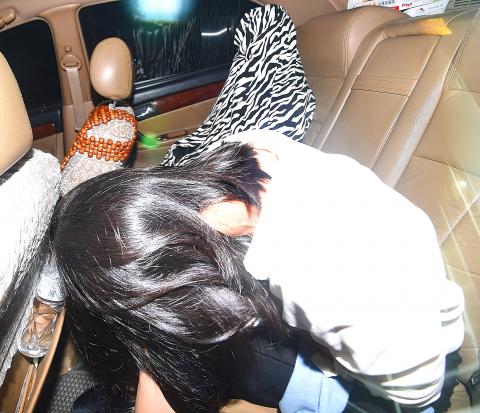 Two females alleged to have been involved in an international prostitution ring leave the Taipei City Investigation Bureau yesterday, after being questioned by the authorities.
Photo: Fang Pin-chao, Taipei Times
She said she was then forced to go along for the night, but while shopping the next day, she managed to contact the local police, who alerted the US law enforcement agency about the cross-border escort service operation.
Prosecutors said that Tai had made numerous trips to Las Vegas and other US cities on the west coast since Washington granted Taiwan visa waiver status in late 2012.
They said that Tai usually led a "tour group" of young women, which later on was detected and tracked by US immigration officers.
The US immigration agency and Department of Homeland Security placed Tai, also known as "Virginia Tai," and her business assistant, Chung Yi-tzu (鍾宜姿), or "Cindy," under surveillance on suspicion of human trafficking and prostitution. The information was later passed on to Taiwanese authorities through the American Institute in Taiwan.
With Taiwanese and US authorities monitoring the operation, they found that Tai has an extensive list of clients, mostly wealthy businessmen in Taiwan, China, Hong Kong and Macau, as well as overseas Chinese in the US, Singapore and Australia.
Local media, quoting a law enforcement official, said that the model's testimony was only the tip of the iceberg. Besides confiscating the passports of the women, these international operations — including the one headed by Tai — mostly had links with Chinese criminal syndicates, the official said.
"If those models and starlets refused to go along [with the demands], the Chinese gangsters will first verbally abuse them, then beat them up and even force-feed them drugs to control them, so the girls are forced to cooperate by providing sexual services," the official said.
Comments will be moderated. Keep comments relevant to the article. Remarks containing abusive and obscene language, personal attacks of any kind or promotion will be removed and the user banned. Final decision will be at the discretion of the Taipei Times.