Chu wants rule change for Wang
LEGISLATIVE YUAN POST: Eric Chu said objective and neutral legislative speakers from the KMT should not be subject to the party's limits on at-large lawmakers' terms
Chinese Nationalist Party (KMT) Chairman Eric Chu (朱立倫), the party's newly chosen presidential candidate, yesterday said he planned to establish a system where no term limits were imposed on KMT lawmakers who serve as speaker of the Legislative Yuan.
Chu gave interviews to several radio stations on the first day of his three-month leave from his job as New Taipei City mayor to concentrate on his presidential bid.
One of Broadcasting Corp of China (BCC) radio show host Lan Shuan's (蘭萱) questions was about about a possible re-election bid by Legislative Speaker Wang Jin-pyng (王金平), who is now in his third term as a KMT legislator-at-large.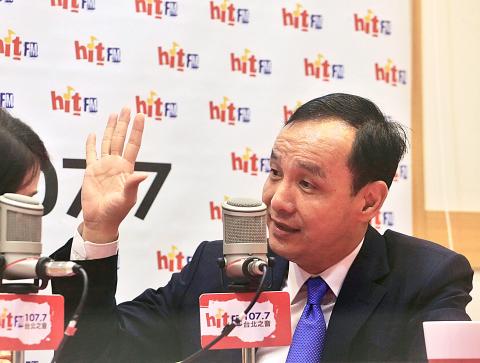 Chinese Nationalist Party (KMT) presidential candidate Eric Chu yesterday gestures during an interview at Hit FM radio station in Taipei yesterday.
Photo: CNA
"Current KMT regulations stipulate that legislators-at-large can only serve two terms, although those who have made special contributions to the party, meet the needs of the party and have served as legislative speaker, are eligible for re-election," Chu said.
"However, I intend to create a system where a KMT legislative speaker who is neutral and objective would not be subject to such term limits," he added.
The KMT Central Standing Committee in October 2011 approved changes to the party's nomination rules for legislators-at-large specifically aimed at allowing Wang to continue serving as speaker if the KMT retained its legislative majority in the 2012 elections. KMT rules had previously limited its at-large legislators to just two terms.
Wang first became speaker in 1999.
When asked for a comment on Chu's statement, Wang said: "Let nature takes its course. Thank you."
In an interview with Hit FM radio host Clara Chou (周玉蔻), Chu promised to step down as KMT chairman if he loses the Jan. 16 election, but dismissed speculation that he might resign as New Taipei City mayor during the campaign to try to tilt the race in his favor.
"I will definitely step down as KMT chairman if I do not get elected, even if the party maintains its legislative majority," he said.
"Resigning from the mayoral post concerns not only myself, but also hundreds of people in my administration, including the city government's three deputy mayors, department heads and officials. All of them would have to be replaced by interim representatives designated by the central government if I made that choice," he said.
This would put the city government on hold for three months pending a by-election, Chu said, adding he would never let the municipality's residents be affected by such a decision.
Elaborating on his decision, announced on Monday, to take a leave of absence from the mayor's job, Chu said that being on leave does not mean he would ignore city affairs.
"If I have the time, I would return to the city government to help handle some affairs. This would be my way of showing respect to the city residents and to the system," Chu told Chou in the interview.
Turning to critics who have labeled him "morally bankrupt" for breaking his promises not to join next year's presidential race and to serve out his second mayoral term, Chu said it was the harshest and most heart-wrenching criticism that a person who valued their reputation could ever receive.
"However, I will accept the criticism ... because I am doing this not for the KMT, but to give Taiwan's next generations and its people a different choice," Chu said.
He said that even his family was against his decision to enter the presidential race, adding that he had told his wife to "never marry a guy like him in her next life."
Additional reporting by staff writer
Comments will be moderated. Keep comments relevant to the article. Remarks containing abusive and obscene language, personal attacks of any kind or promotion will be removed and the user banned. Final decision will be at the discretion of the Taipei Times.