Hung camp calls for secret vote at KMT's congress
EARLY WARNING: The KMT presidential candidate's campaign also said that the meeting's agenda, which is to be decided today, should be made public in advance
The Chinese Nationalist Party (KMT) should reveal in advance the agenda of the pending extempore party congress aimed at removing Deputy Legislative Speaker Hung Hsiu-chu (洪秀柱) as the party's presidential candidate and allow the proposal to be decided anonymously via secret ballot rather than by a show of hands, Hung camp officials said.
KMT headquarters is scheduled to hold a meeting today to discuss and finalize the date, location and agenda of the congress, which is expected to be held before the end of this month.
While what the party intends to achieve at the congress is no secret, KMT headquarters' insistence on remaining silent on the issues to be discussed at the meeting is said to have irritated Hung's campaign team and KMT representatives supporting her.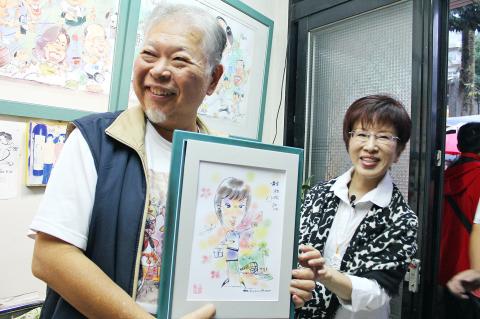 Illustrator Tseng Hui-chuan, left, yesterday presents Chinese Nationalist Party (KMT) presidential candidate Hung Hsiu-chu with a portrait of her in Neiwan Village in Hsinchu County's Hengshan Township.
Photo: Huang Mei-chu, Taipei Times
Mao Chia-ching (毛嘉慶), deputy convener of the campaign office's public relations department, said many grassroots party representatives have expressed their concerns that many of the issues that have been put to a vote at party congresses were conducted by a show of hands.
"They said given that local party representatives usually attend the congress and sit together with party chapter chiefs from their districts, almost none of them would dare to not raise their hands when voting," Mao said.
KMT spokesman Yang Wei-chung (楊偉中) said all matters regarding the congress are to be deliberated at today's party affairs meeting, which is to be presided over by KMT Secretary-General Lee Shu-chuan (李四川).
As for the voting method, Yang said it would be determined in accordance with the KMT's congress regulations, which stipulate the chairman of the meeting is entitled to decide whether to conduct voting by a show of hands or by ballot.
However, if an attending representative expresses dissent regarding the chairman's decision and is supported by more than 100 participants, the chairman is required to let representatives present vote on the voting method, Yang added.
In the past, a majority of proposals submitted at KMT congresses were passed with applause, while a show of hands was taken at a 2013 congress to pass a draft amendment to the party's charter making the nation's president, when the party is in power, the rightful chairman of the KMT.
Ballots have never been used in a KMT congress.
A staff member from Hung's camp, who requested anonymity, said the KMT has traditionally been a patriarchy, whose members do exactly as they are instructed, such as applauding or passing a motion.
"If KMT headquarters want to assuage dissent, they should at least tell the public how they plan to handle the voting process or explain what kinds of issues are to be deliberated to achieve [KMT Chairman Eric] Chu's (朱立倫) stated goal of forging consensuses and securing victory with party solidarity," the staff member said.
It should also be made clear in advance whether they intend to remove Hung before authorizing Chu to find a suitable substitute — which might suggest underhand dealings — or nominate Chu before ousting Hung, which would make it difficult to calm angry supporters of Hung, the staff member said.
The staff member added that since a two-month notice is required for the holding of an extempore party congress, any party representative could apply for a preliminary injunction to nullify the congress.
Later in the day, in response to questions from reporters, Hung said her camp has never proposed putting her nomination to a secret vote, because letting KMT representatives vote on the matter itself is detrimental to the party's primary mechanism.
"I think it is better to have a debate on my policies that [the KMT leadership] deems to be running against mainstream public opinion," Hung said, adding that it is up to KMT headquarters' "wisdom" to decide how to address the matter.
She said a private event in Taipei yesterday evening — to be attended by 120 of her supporters — was designed to give her backers a venue to vent their emotions and voice their opinions, because many of them have been frustrated by recent events.
Comments will be moderated. Keep comments relevant to the article. Remarks containing abusive and obscene language, personal attacks of any kind or promotion will be removed and the user banned. Final decision will be at the discretion of the Taipei Times.