Hung supporters protest as KMT set to do U-turn
While the call to replace Hung Hsiu-chu (洪秀柱) as the Chinese Nationalist Party (KMT) presidential candidate was voiced loudly at the party's Central Standing Committee meeting yesterday, angry Hung supporters gathered outside KMT headquarters in Taipei to protest a plan to replace Hung, demanding that KMT Chairman Eric Chu (朱立倫) resign.
More than a hundred supporters, many clad in red and blue, rallied yesterday afternoon outside the building, behind a line of police officers and blockades set up in front.
At least five groups, including the White Justice Alliance, had rallied Hung's supporters on Facebook before yesterday's protest as the party's Central Standing Committee mulled calling an extempore party congress to pass a resolution to replace the deputy legislative speaker as the KMT's presidential candidate.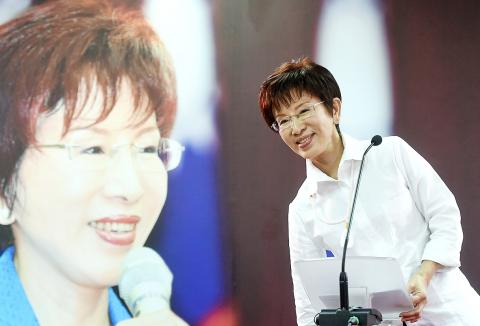 Chinese Nationalist Party (KMT) presidential candidate Hung Hsiu-chu yesterday holds a press conference in Taipei in response to the KMT Central Standing Committee's proposal that an extempore party congress be held to discuss her nomination.
Photo: Chien Jung-fong, Taipei Times
The crowd raised various banners rooting for Hung, castigating Chu and calling on the KMT to stay true to its principles.
"Our opponent is [Democratic Progressive Party (DPP) presidential candidate] Tsai [Ing-wen (蔡英文)]" and "The 100-year-old party is depending on Hung for change" were among the slogans.
The supporters were predominantly elderly, with just a few young people spotted among the crowd.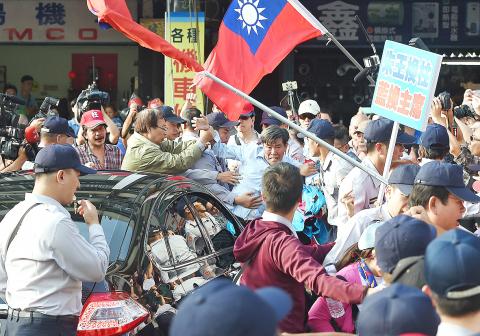 Protesters yesterday try to stop the vehicles of some Chinese Nationalist Party (KMT) Central Standing Committee members from leaving KMT headquarters in Taipei after a meeting at which it was proposed that an extempore party congress be held to discuss the presidential candidacy of Hung Hsiu-chu.
Photo: Liao Chen-huei, Taipei Times
China Unification Promotion Party Chairman Chang An-le (張安樂), also known as the "White Wolf," appeared for a short period of time, shouting his opposition to the KMT's plan to remove Hung from the race.
"What is wrong with calling for an ultimate unification [between Taiwan and China]?" Chang asked. "If you are called the Chinese Nationalist Party, you should not object to unification."
"The KMT has ended up in this mess because it does not dare admit that it is Chinese," he said, asking why none of the KMT heavyweights had borne the responsibility of running for president in May and had to let "Hung, a little girl" do so.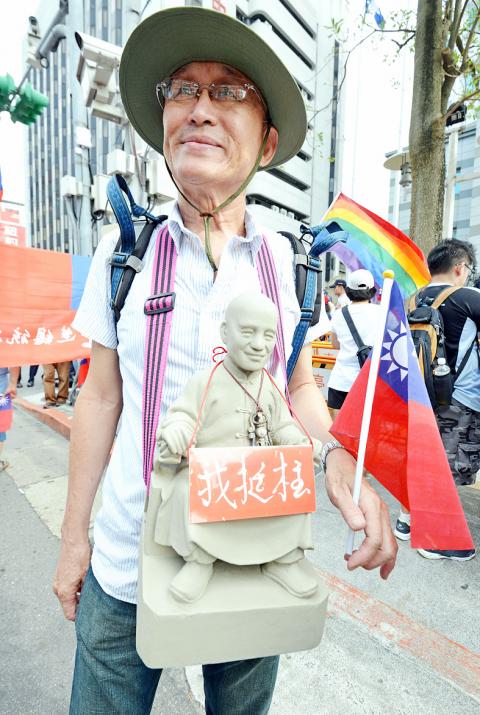 A supporter of Chinese Nationalist Party (KMT) presidential candidate Hung Hsiu-chu carries a statue of Chiang Kai-shek at a protest in Taipei yesterday.
Photo: Sam Yeh. AFP
There were also some unexpected protesters in the crowd.
A group of former freeway toll collectors, accompanied by labor activists, were there to accuse both the KMT and the DPP of failing to propose a solution for workers laid off when the nation switched to an electronic toll collection system in January last year.
They were criticized by Hung's supporters, who questioned "their intentions and why they were not busy looking for jobs."
"The workers' stance is that whoever takes care of the workers will get our vote," the former toll collectors said.
Gay rights activist Chi Chia-wei (祁家威), holding a rainbow-colored flag and claiming to represent pan-blue gays, said he had joined the protest because he believes Hung would be supportive of the marriage equality campaign.
"I know that quite a few members of her campaign team are gay, meaning that Hung is actually supporting us in a substantive way," Chi said.
When asked about the fact that Hung had not openly voiced her support for same-sex marriage, Chi said that what he cares about is the concrete assistance that politicians provide, citing former KMT Taipei City councilor — and current KMT spokesperson — Lin Yi-hua (林奕華), who Chi said had helped the gay community many times during her term as a councilor.
He said he did not think Tsai would push for same-sex marriage "because, unlike Hung, she has been accused of being gay, and like [President] Ma [Ying-jeou (馬英九)], she would not proactively push the passage of a bill for fear of being labeled."
Comments will be moderated. Keep comments relevant to the article. Remarks containing abusive and obscene language, personal attacks of any kind or promotion will be removed and the user banned. Final decision will be at the discretion of the Taipei Times.