Chu ready to step in should Hung quit race
Chinese Nationalist Party (KMT) Chairman Eric Chu (朱立倫) yesterday said that as the head of the party, he was obligated to "shoulder the responsibility" should KMT presidential candidate Hung Hsiu-chu (洪秀柱) drop out of the January race.
"As the head of the party, I must tell the truth, which was why I have met with Hung on more than two occasions to inform her of the results of some surveys and concerns voiced by people," Chu, who is also the New Taipei City mayor, said on the sidelines of a city council meeting yesterday morning.
Chu said he had also advised the deputy legislative speaker to adjust her principles, attitude and ways of making public statements, since it was his responsibility to make mainstream public opinion known to the party's presidential candidate.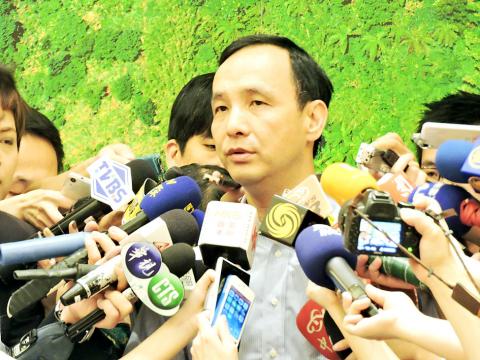 Chinese Nationalist Party (KMT) Chairman Eric Chu, speaking on the sidelines of a New Taipei City Council meeting, says that as party chairman, he will take responsibility should KMT presidential candidate Hung Hsiu-chu withdraw from the presidential campaign.
Photo: Lai Hsiao-tung, Taipei Times
"I have always admired how Hung stands firm in her beliefs. She often says her own success and failure, or how many legislative seats the KMT secures in the Jan. 16 elections, are not her priority concerns. However, I think that is where communication is needed," Chu said.
Chu said he had repeatedly asked Hung to take to heart the legislative elections, otherwise he would have no choice but to start taking care of the bigger picture.
"Hung asked me: 'Who will take the responsibility [of representing the KMT in the presidential race] then?' I replied: 'As the chairman of the party, it would be my unshirkable responsibility and I am willing to shoulder all duties if necessary,'" Chu said.
Chu's comments appear to contradict his previous statements that he would serve out his term as New Taipei City mayor and unite the KMT to support Hung, who won the party's nomination in July after meeting its primary requirements.
They also came after a flurry of media reports on Monday that said he was planning to step down as mayor next week and vie for the presidency in Hung's stead.
The presidential election is not all about conveying one's values and beliefs, Chu said.
"As KMT chairman, I also have to factor in mainstream public opinion, the party's survival and development, and the number of seats that its legislative candidates win," he said.
Chu said that on Monday, he had informed President Ma Ying-jeou (馬英九), Vice President Wu Den-yih (吳敦義) and Legislative Speaker Wang Jin-pyng (王金平) about the latest developments on the issue.
"We will continue to communicate with interested parties in the following two days, in the hope of forging a consensus within the party," he added.
Asked about the likelihood of him running for president without resigning as mayor, Chu declined to comment on a hypothetical question, saying only that communication is under way and that every discussion he has had with Hung went amicably.
Wang also confirmed that he spoke with Chu on Monday night about party affairs, including members' concern and advice the party's next step.
Wang denied that Chu had directly stated his intention to run for president during the talk.
When asked whether he would replace Hung as the candidate, Wang said he has "no [weapon] in hand" as he did not "obtain a form" to join the party primary."
Additional reporting by Alison Hsiao
Comments will be moderated. Keep comments relevant to the article. Remarks containing abusive and obscene language, personal attacks of any kind or promotion will be removed and the user banned. Final decision will be at the discretion of the Taipei Times.