Hung digs in amid rumors of change
PROMISE KEEPER: The KMT presidential candidate warned the party that forcing candidates to drop out of elections would shatter public trust in it
Chinese Nationalist Party (KMT) presidential candidate Hung Hsiu-chu (洪秀柱) yesterday reiterated her determination to run for president amid rising speculation that the party is intent on removing her, saying she would neither agree to any quid-pro-quo deals or succumb to "unreasonable forces."
"I am sorry to have let news reports in the past two days worry my supporters. All of a sudden, what started off as a groundless rumor has become a serious issue. This is all because of my insufficient campaigning efforts," Hung told an impromptu press conference held at KMT headquarters yesterday afternoon.
Hung said while self-reflection on her part is needed, she wants to reassure her supporters that she would adhere to the original purpose that prompted her to step forward and join the presidential race in the first place.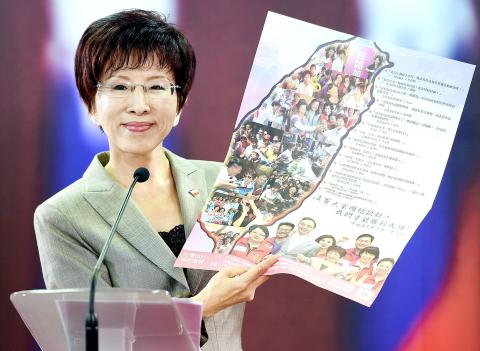 Chinese Nationalist Party (KMT) presidential candidate Hung Hsiu-chu holds up a poster issued by party headquarters during a press conference in Taipei yesterday. The poster includes KMT Chairman Eric Chu calling for people to unite behind Hung.
Photo: Chu Pei-hsiung, Taipei Times
She said she would also continue to honor her pledges of not consenting to any terms offered in exchange for her quitting the election or bowing to pressure.
Stressing that she is reluctant to believe rumors that the party wants to replace her, the deputy legislative speaker said that the public has always loathed the KMT for its backroom deals, close-doored meetings and quid-pro-quo agreements.
"It was my participation in the KMT's presidential primary that led them to believe that the party has finally made progress on democratic reform," Hung said.
Hung urged her supporters to explore all possible channels to proudly convey the values and principles they have jointly pursued, while calling on the KMT leadership to refrain from trying to salvage the party's campaign by revoking a candidate's nomination.
She said that forcing candidates to drop out of elections would only shatter the public trust in the KMT that she has worked so hard to restore.
Hung made the remarks one day after local media reported that KMT Chairman Eric Chu (朱立倫) would step down as New Taipei City mayor next week to replace Hung in the Jan. 16 presidential race.
The deputy legislative speaker has faced mounting pressure from her party comrades to withdraw from the election, with media reports saying that KMT Central Standing Committee member Chiang Shuo-ping (江碩平) plans to call a provisional party congress at a routine meeting of the committee today to oust Hung as the party's candidate.
Chu said on Monday that he had met with Hung on several occasions to discuss the elections. Media reports said he had asked her to quit the race, citing her dismal support ratings.
In a move perceived to hold Chu accountable for his words, Hung held high a campaign poster printed with the chairman's statement: "Only by standing united behind Hung will the KMT secure victory."
However, Hung shrugged off reports by the online news outlet Storm Media Group, which quoted an anonymous staff member of her campaign office as saying that Hung had recorded all her meetings with Chu and KMT Secretary-General Lee Shu-chuan (李四川).
"The recordings include how the pair attempted to persuade Hung to exit the election and the terms they offered her," the staff member was quoted as saying, threatening to release the recordings if necessary.
Asked to comment on the KMT Organizational Development Committee's move to poll party representatives about removing Hung and nominating Chu to spur the KMT campaign, Hung said she believes society knows what is fair.
She added that she would give serious thought to whether to take legal action if her nomination is revoked by the KMT.
Later yesterday, Hung's campaign team confirmed that KMT headquarters had recalled five of the seven staff members that the party had "lent" Hung's campaign.
"[KMT headquarters] has also called off a campaign event [for Hung] scheduled for Thursday. How heartless," Hung's Department of Public Information convener Sun Ting-lung (孫廷龍) said.
Sun added that only Hung's spokesperson, Hsu Chiao-hsin (徐巧芯), and international team executive secretary Huang Yu-chun (黃裕鈞), both of whom were lent by the KMT Culture and Communications Committee, have yet to be recalled.
KMT headquarters denied recalling members of Hung's campaign staff.
Comments will be moderated. Keep comments relevant to the article. Remarks containing abusive and obscene language, personal attacks of any kind or promotion will be removed and the user banned. Final decision will be at the discretion of the Taipei Times.