KMT politician demands review of Hung's selection
DISSATISFACTION: KMT sources said "more than half" of the Central Standing Committee supported convening a provisional party congress to challenge Hung's candidacy
Chinese Nationalist Party (KMT) Central Standing Committee member Chiang Shuo-ping (江碩平) yesterday demanded a provisional party congress be held to review whether the party's presidential candidate, Hung Shiu-chu (洪秀柱), should be replaced, dealing a severe blow to Hung's campaign and further fueling rumors of division within the party over Hung's candidacy.
KMT sources were yesterday cited by a TVBS report as saying that the most recent poll conducted by the KMT indicated that Democratic Progressive Party presidential candidate Tsai Ing-wen's (蔡英文) approval rating had soared to a record level of 45 percent, while Hung's rating had plummeted to 13 percent.
Anonymous party members said Hung's support rating was critically low and might severely damage the KMT's standing in next year's legislative elections.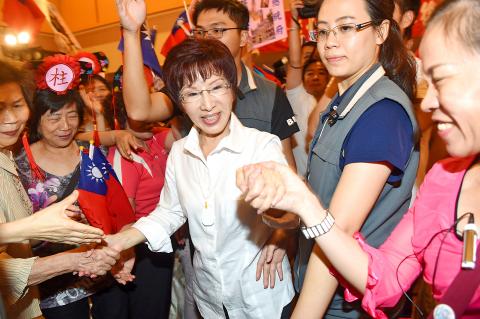 Chinese Nationalist Party (KMT) presidential candidate Hung Hsiu-chu, center, shakes hands with supporters at an event in Taipei yesterday.
Photo: Chien Jung-fong, Taipei Times
Chiang yesterday said he planned to propose that the party hold a provisional party congress at a Central Standing Committee meeting on Wednesday.
KMT sources added that "more than half" of the Central Standing Committee members supported convening a provisional party congress to address the issue of Hung's candidacy.
In response to media queries on the possibility of party members proposing a withdrawal of Hung's candidacy, KMT Chairman Eric Chu (朱立倫) earlier yesterday said KMT members are free to "communicate" their opinions via all available channels, adding that party solidarity would be preserved as long as "all come to an agreement."
In related news, a high-level unnamed KMT source was quoted by the Chinese-language United Daily News as saying yesterday that Hung should not advocate "ultimate unification with China," because it is not supported by mainstream Taiwanese public opinion.
In a radio interview on Friday Hung said the Republic of China Constitution "calls for ultimate unification with China."
She said that President Ma Ying-jeou's (馬英九) stances on the so-called "1992 consensus," the maintenance of the "status quo," and "one China, different interpretations," and "no unification, no independence and no use of force" have "accomplished their medium-term goals," and that there should now be "political dialogue with China" concerning unification.
Hung had previously advocated the idea of "one China, same interpretation," only to see her approval rating tank, compelling Hung to "return" to Ma's standpoints, the source was quoted as saying in the report, who added that Hung "should remember this lesson."
The "1992 consensus" refers to a supposed tacit understanding between the KMT and Beijing that both sides agree there is "one China," with each side having its own interpretation of what "China" means.
Hung "is a KMT candidate" who should "ground [her] cross-strait narrative on KMT policies," or risk the "profound disappointment" of Ma and the party, the source was quoted by the United Daily News as saying.
Hung should "take the initiative" and demand that Tsai, who has said maintaining the "status quo" is the DPP's policy, clarify how she would define "status quo" and how it would be maintained, the source said.
Additional reporting by Lee Ya-wen
Comments will be moderated. Keep comments relevant to the article. Remarks containing abusive and obscene language, personal attacks of any kind or promotion will be removed and the user banned. Final decision will be at the discretion of the Taipei Times.