Hung cites Constitution on unification
ULTIMATE GOAL: The KMT presidential candidate warned of the consequences of advocating independence, while arguing that unification is the only way for Taiwan
Chinese Nationalist Party (KMT) presidential candidate Hung Hsiu-chu (洪秀柱) yesterday said that the Republic of China (ROC) Constitution calls for "ultimate unification with China," following Tainan Mayor William Lai's (賴清德) comment on Wednesday that he supports Taiwanese independence.
The Constitution mandates unification with China, Hung said, adding that the "Guidelines for National Unification" — which had been the nation's main guiding policy on cross-strait affairs until then-president Chen Shui-bian (陳水扁) in 2006 declared that they "ceased to apply" — have short, medium and long-term goals.
"At the end of the road, it is unification, be it in 50 years or 100 years," Hung said.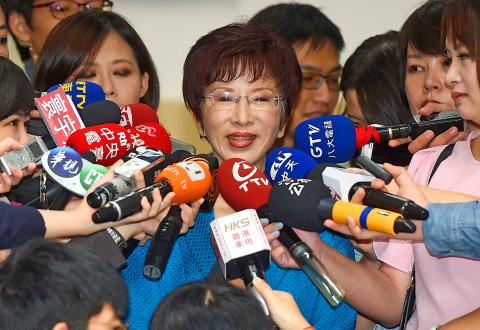 Chinese Nationalist Party (KMT) presidential candidate Hung Hsiu-chu speaks to reporters before she takes part in a legislative session in Taipei yesterday.
Photo: Chien Jung-fong, Taipei Times
"However, it should be our initiative to unify [China], rather than being annexed by someone else," the deputy legislative speaker said.
As the nation cannot launch a unification campaign now, "[we] might as well maintain the status quo," she said, adding that whether people advocate unification or independence, all do so out of love for Taiwan and do not want to be the Chinese Communist Party's (CCP) lackeys.
President Ma Ying-jeou's (馬英九) so-called "1992 consensus," "one China, different interpretations," and "no unification, no independence and no use of force" policies have achieved their midway goal in maintaining the "status quo," Hung said, "but it is not enough, and we need to find a [new] way for Taiwan."
"The feasibility of Taiwanese independence, its consequences and the possible disasters it might incur should be clearly spelled out. The CCP would counter by sealing all of Taiwan's ways out and its participation in international organizations, which would damage Taiwan without [China] waging war against us," she said.
Whoever supports Taiwanese independence "should let the public know and see whether they are willing to bear the consequences," Hung added.
Hung said that Taiwan should first promise Beijing that it rejects independence, but at the same time demand that Beijing acknowledge that there are two separate governing bodies across the Taiwan Strait.
Hung said that what worries her most is that Taiwan would be annexed without dignity, "so finding a way for Taiwan is to look for a breakthrough on the premise of no separation and having a clear cross-strait position."
For this, she is "not afraid of being labeled or colored red," she said.
Legislative Speaker Wang Jin-pyng (王金平) said that he respects Hung's personal views, but that "discussing unification or independence as an ultimate goal could stir up great controversy."
"The ROC is an independent, sovereign nation that has control over Taiwan, Penghu, Kinmen and Matsu. It is not [appropriate] to talk about unification or independence now," Wang said, calling for a suspension of the polemic.
Wang on Thursday made a similar comment on Lai's independence remarks, saying there should be "no room for ambiguity on maintaining the status quo."
Comments will be moderated. Keep comments relevant to the article. Remarks containing abusive and obscene language, personal attacks of any kind or promotion will be removed and the user banned. Final decision will be at the discretion of the Taipei Times.