Typhoon kills three, injures 376, disrupts supplies
Three people died and 376 were injured as Typhoon Dujuan pummeled the nation with torrential rainfall and strong winds, the Central Emergency Operation Center said yesterday.
Among the three people killed was a 70-year-old man in New Taipei City's Tucheng District (土城), who fell to the ground and died after being blown over by a gust of wind.
A 54-year-old worker in Taichung was flung into the air by strong winds as he stood on a corrugated steel sheet on a fence near a construction site.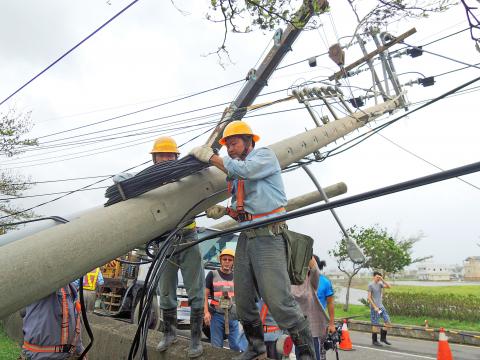 Workers repair a toppled electricity pole in Yilan County yesterday.
Photo: Chiang Chih-hsiung, Taipei Times
He died after falling from a height of about 3m.
The third person killed was a 41-year-old woman surnamed Yu (余), who died after sustaining serious injuries in a car accident during the storm.
By 8am yesterday, about 12,000 people had been evacuated, the center said.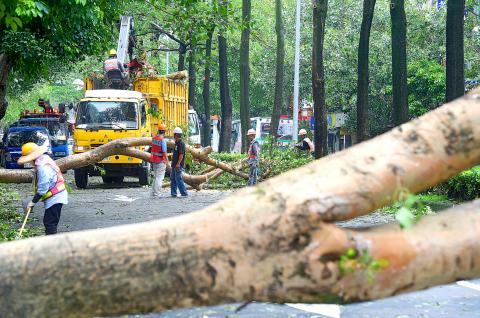 Workers clear trees lying across a road in Taipei yesterday.
Photo: Chien Jung-fong, Taipei Times
The typhoon disrupted water and power supplies in northern Taiwan.
Data from Taiwan Power Co (Taipower) showed that electricity was not available for more than 2.27 million households at one point.
Taipower said that by 6:30pm yesterday, 119,048 households had yet to regain power supplies.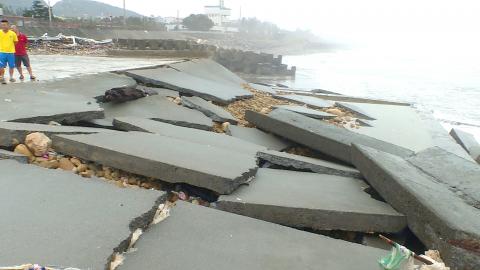 People stand by broken concrete slabs from a collapsed wall alongside a fishing port in Miaoli County yesterday.
Photo: CNA
Taiwan Water Corp suspended the water supply to almost 150,000 households and reduced water pressure to 145,200 households over high river turbidity.
The water company said normal water supply would resume completely by 6am today.
The nation's main transportation systems had largely resumed normal operations yesterday.
Taiwan High Speed Rail Corp began train operations at 11:30am yesterday from Taipei, Taichung, Tainan and Kaohsiung high-speed rail stations to facilitate the transportation of passengers, many of whom are to return to work today,
The Taiwan Railways Administration (TRA) reported severe damage to the North Link Railway and resumed services nationwide by 6pm yesterday, although trains could only operate on one set of tracks in some sections.
Taiwan Taoyuan International Airport estimated that about 126,000 passengers accessed the airport yesterday as airlines resumed flights, with passengers beginning to line up at check-in counters as early as 4:30am.
Though the Central Weather Bureau had not lifted sea and land alerts by 5:30pm yesterday, the wind and rain brought by Dujuan had largely eased by early yesterday morning.
The Ministry of Transportation and Communications apologized to the public for crowds in railway stations on Monday, which was the last day of the Mid-Autumn Festival holiday.
Deputy Minister Tseng Dar-jen (曾大仁) said the ministry would henceforth activate emergency transport plans as soon as a land alert for a typhoon is announced during a major national holiday.
When the occurrence of a typhoon coincides with any of the nation's major holidays, alternative transportation methods would be arranged for the high-speed rail system, TRA systems, then buses, in that order, Tseng said.
People would be given maximum flexibility if they ask for a refund or to exchange for train tickets departing on other days given the extenuating circumstances, Tseng added.
The high-speed rail system transported 180,000 passengers between 6am and 3pm on Monday, Tseng said.
In the past, the system could transport up to 240,000 passengers per day.
Comments will be moderated. Keep comments relevant to the article. Remarks containing abusive and obscene language, personal attacks of any kind or promotion will be removed and the user banned. Final decision will be at the discretion of the Taipei Times.