Japanese, China express opposition to law change
Japanese opposition groups yesterday vowed to challenge laws passed overnight that clear Japanese troops to fight abroad for the first time since World War II, while Beijing voiced concern.
Japan's ruling coalition, led by Japanese Prime Minister Shinzo Abe, pushed the laws through in the early hours of the morning after days of tortuous debate that at points descended into physical scuffles in parliament.
For the first time in 70 years, the new regulations are to give the Japanese government the power to send the military into overseas conflicts to defend allies, even if the nation itself is not under attack.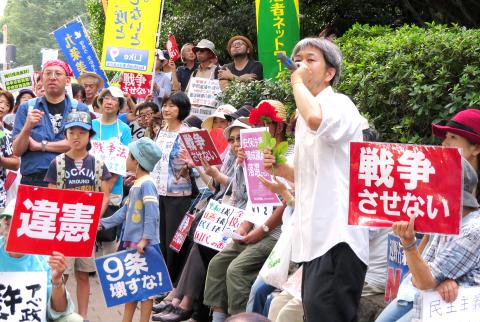 People protest outside the Diet in Tokyo yesterday against changes to Japanese defense laws.
Photo: AFP
Abe said the laws are necessary to protect against threats from an increasingly belligerent China and unstable North Korea, but opponents fear the vague wording could see Japan dragged into far-flung foreign wars.
"This is not an end," said Renho, a senior lawmaker from the main opposition Democratic Party of Japan, who goes by one name.
"Let us make it the beginning of the beginning," she said on Twitter.
Social Democratic Party senior lawmaker Mizuho Fukushima told a crowd who gathered outside parliament during the debate: "Abe's Cabinet criminals... Let us get them out of here."
China voiced its concerns, with its Ministry of Foreign Affairs saying the changes are an "unprecedented" change in Japan's military stance since World War II, and urged Tokyo to "pay attention to security concerns of its neighbors."
"We solemnly urge Japan to learn the lessons of history ... uphold the path of peaceful development and act cautiously in the areas of the military and security, and do more to help push regional peace and stability rather than the opposite," it said.
Speaking after the vote, Abe said the changes were "necessary in order to protect people's lives and peaceful way of life."
"This is designed to prevent wars," he told journalists.
A group of about 300 protesters gathered outside parliament, calling for the legislation to be abolished and vowing never to stop their fight against Abe.
"Our battle will never end. This is just the beginning," said Keisuke Yamamoto, an organizer from one of the citizen groups that have been leading weeks of rallies. "We will resort to every possible measure, including bringing the case to the courts... We cannot let this movement fizzle out now."
Comments will be moderated. Keep comments relevant to the article. Remarks containing abusive and obscene language, personal attacks of any kind or promotion will be removed and the user banned. Final decision will be at the discretion of the Taipei Times.