Modest arms package on its way, US council says
A new arms package for Taiwan is making its way through the complex channels of the US political system, US-Taiwan Business Council president Rupert Hammond-Chambers said on Wednesday.
It follows an unprecedented period of no new US arms sales to Taipei.
"I would characterize the programs that are being looked at now — and these have all popped up in the last year or so — as house cleaning," Hammond-Chambers said.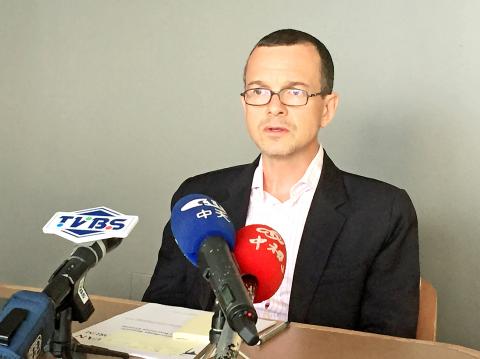 US-Taiwan Business Council president Rupert Hammond-Chambers answers questions on US arms sales to Taiwan at a press conference in Washington on Wednesday.
Photo: CNA
However, the new package is to consist of nothing much more than second-hand equipment, upgraded equipment and munitions.
Such a sale is unlikely to come before the fourth quarter of next year.
"Any new capabilities under consideration for Taiwan will be left almost certainly to the next US administration," Hammond-Chambers said.
He was speaking at a Washington press conference following the release of a new report by the US-Taiwan Business Forum.
Hammond-Chambers said that by the end of next year, up to 24 of Taiwan's frontline F-16 jets would be taken out of service for upgrades.
"In my view, this will exacerbate the debate over what to do about the future of Taiwan's air force and put further strain on it," he said.
The natural conclusion to Taiwan not receiving new fighters is that Taiwan would not have an air force, Hammond-Chambers said.
"At some point, the fighters have to be replaced and that should be an ongoing process," he said.
He said that the likely next platform for Taiwan should be an upgraded fourth-generation F-16.
He said submarines and fighters are "incredibly expensive," but Taiwan needs an undersea force and a robust modern fighter force to provide security, and the money is going to have to come from somewhere.
Hammond-Chambers said a limited purchase of F-16C/Ds — not the 66 originally wanted, but a more modest group of between 24 and 33 — might be considered by the next president of Taiwan and the next US president.
"That issue of the fighter replacement is going to be very much about who wins the presidential election here in the US," he said.
Any such sale would likely come in the first year of a new administration, because after that it becomes more difficult politically, he said.
"History suggests that a Republican administration would be more likely to sell arms to Taiwan, but if [former US secretary of state] Hillary [Rodham] Clinton were to win the Democratic Party nomination and be elected, her national security team would have some strong voices for Taiwan," Hammond-Chambers said.
"I would say to the Taiwan people that national security is expensive, modern weapons are expensive. Taiwan can develop some of them domestically, but some capabilities they will have to procure," he said.
Hammond-Chambers said that returning to a period where the US sells arms to Taiwan on a regular basis would be "very difficult," given the long freeze.
Comments will be moderated. Keep comments relevant to the article. Remarks containing abusive and obscene language, personal attacks of any kind or promotion will be removed and the user banned. Final decision will be at the discretion of the Taipei Times.