Lien flies to China amid controversy
SLAP IN THE FACE: Some saw the ex-vice president's departure as a slight toward several KMT heavyweights, who over the past few days tried to have the trip axed
Despite repeated calls from his Chinese Nationalist Party (KMT) peers, former vice president Lien Chan (連戰) yesterday left for China to attend a series of commemorative events in Beijing to mark the 70th anniversary of the end of World War II.
"The primary appeal of Lien's visit is to garner reciprocity and dignity. Let us look forward to it," Lien's aide Chang Jung-kung (張榮恭), a former KMT vice secretary-general, said at Taiwan Taoyuan International Airport before Lien boarded China Airlines Flight CI517 for Beijing.
Chang said the series of commemorations were "a major event for the zhonghua minzu [Chinese ethnic group, 中華民族]" and that Lien would "make appropriate statements" regarding who should take credit for the 1945 victory over the Japanese at Beijing's internationally oriented commemorative events.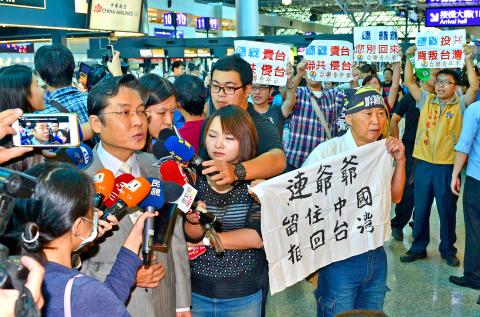 Chang Jung-kung, left, aide to former vice president Lien Chan, speaks to reporters about Lien's visit to Beijing as Taiwan Solidarity Union members and pro-independence advocates protest the trip.
Photo: Yao Kai-shiou, Taipei Times
China has its own perspective regarding what it refers to as the eight-year War of Resistance Against Japan, Chang said, adding that bilateral dialogue could achieve what unilateral action could not and create a complementary situation.
Regarding President Ma Ying-jeou's (馬英九) warning that Lien's participation in Beijing's military parade would not be "appropriate," Chang said they could arrive at the same end by different means and that historical interpretations should be open to exchanges of opinions and reconciliation.
Despite Chang's sugarcoating of Lien's widely criticized China visit, a group of young Taiwan Solidarity Union (TSU) members and a number of pro-independence advocates staged a protest at the airport, accusing Lien of humiliating and selling out Taiwan.
Chanting slogans such as "Grandpa Lien betraying Taiwan" and "Do not come back, grandpa Lien," TSU Department of Youth Affairs director Chang Chao-lin (張兆林) said Lien might as well "just die in China," because he is no longer welcome in Taiwan.
One of the demonstrators forcibly wrapped a protest banner around Chang Jung-kung's head before Chang Chao-lin made a failed attempt to throw one of his shoes at the former KMT vice secretary-general.
Chang Chao-lin ended the protest by threatening to gather more people to "welcome" Lien back to Taiwan on Thursday.
Lien's departure was seen as a slap in the face for several KMT heavyweights, including Ma, who called Lien's scheduled attendance at China's commemorative military parade on Thursday inappropriate in an apparent attempt to persuade him from going.
Former premier Hau Pei-tsun (郝柏村), the Presidential Office, the Mainland Affairs Council and the Ministry of National Defense had all pubicly spoken against Lien's planned visit.
KMT caucus deputy whip Lin Te-fu (林德福) said he believed Lien would be guided by "a ruler in his heart" when asked to comment on the 79-year-old's insistence on making the trip yesterday.
Democratic Progressive Party (DPP) Chairperson Tsai Ing-wen (蔡英文) yesterday warned that Lien's visit to Beijing might send the wrong message to the international community.
"The two sides [Taiwan and China] have different interpretations of history, and China has not ruled out taking military action against Taiwan," she said.
"As a former vice president of the nation, Mr Lien's decision to attend a military parade [in China] is not in accordance with the feelings of Taiwanese and could send the wrong message to the international community," Tsai added.
Meanwhile, KMT Chairman Eric Chu (朱立倫) yesterday refused to comment on DPP legislators' remarks that the KMT's failure to take more forceful action to prevent Lien's visit was tantamount to deliberately letting Lien trample over Ma.
"Is it necessary for me to comment on the remarks of some DPP lawmakers?" Chu said.
However, Legislative Speaker Wang Jin-pyng (王金平) made comments at a Buddhist event in Kaohsiung yesterday that many perceived as having been directed at Lien, saying it was the guiding principle of Buddhism to act with the benefit of all people at heart.
"Only a stable Taiwan can ensure a stable Asia-Pacific region," Wang said.
Additional reporting by Su Fu-nan and Loa Iok-sin
Comments will be moderated. Keep comments relevant to the article. Remarks containing abusive and obscene language, personal attacks of any kind or promotion will be removed and the user banned. Final decision will be at the discretion of the Taipei Times.