Poll finds Hung support declining
HUNG OUT TO DRY? When asked about rumors that some within the KMT were pushing for her to step aside, Hung compared her struggles to those of Sun Yat-sen
Chinese Nationalist Party (KMT) presidential candidate Hung Hsiu-chu (洪秀柱) yesterday likened the struggle of her campaign to gain momentum to Republic of China (ROC) founding father Sun Yat-sen's (孫逸仙) initial failures to overthrow the Qing Dynasty.
According to a poll conducted by Taiwan Indicators Survey Research (TISR) and released on Friday, Hung's support has dropped to 12.7 percent, a decline from the 15 percent backing she received in a poll released by the Cross-strait Policy Association on Wednesday.
Of those surveyed, 37.3 percent in the Taiwan Indicators poll said they would vote for Democratic Progressive Party presidential candidate Tsai Ing-wen (蔡英文), while People First Party (PFP) presidential candidate James Soong (宋楚瑜) garnered 19.1 percent.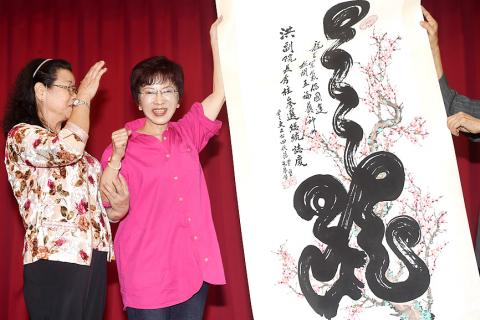 Deputy Legislative Speaker Hung Hsiu-chu holds up a painting with the character long — dragon — presented to her at an event at the Republic of China Military Academy in Kaohsiung yesterday.
Photo: Liao Chen-huei, Taipei Times
Asked about rumors that some within the KMT's own ranks oppose her candidacy and have asked her to withdraw if her numbers do not improve — with KMT Taipei City Councilor Lee Hsin (李新) proposing a head-to-head vote be conducted between Hung and Soong — Hung cited Sun as an example to demonstrate her resolve.
"Do you know how many times Sun launched insurrections against the Qing Dynasty before he finally succeeded? How could the ROC have been established if he had given up after just a single failure?" she said.
When asked about the possibility of a team-up between the KMT and the PFP, Hung said on Friday night it is "not possible" and reiterated yesterday that she is the candidate endorsed by the KMT's national congress.
Hung also explained what she meant when she said in an interview on Friday night that she would like "more attention from [Legislative Speaker] Wang Jin-pyng (王金平) and [Vice President] Wu Den-yih (吳敦義)," denying she was suggesting the two are reluctant to help.
"It is just a call for party solidarity. People have the feeling that that the campaign is picking up momentum, but we just hope that the effort can speed up more," she said.
Comments will be moderated. Keep comments relevant to the article. Remarks containing abusive and obscene language, personal attacks of any kind or promotion will be removed and the user banned. Final decision will be at the discretion of the Taipei Times.