Apologies offered over controversial photo for EasyCard
The Japanese agent and personal representative of Yui Hatano, a Japanese adult video actress, yesterday bowed at a Taipei news conference to apologize for providing a previously published photograph for Taipei EasyCard Corp (悠遊卡公司) to use in a series of special-edition cards.
The company had invited Hatano to Taiwan for a photography session to produce images for two versions of her card, one "angel" and one "demon."
Although the cards were not scheduled to be launched until Tuesday next week, there had already been a lot of discussion on the Internet, not only about the choice of Hatano, but that one image had been used on the cover of one of her adult videos.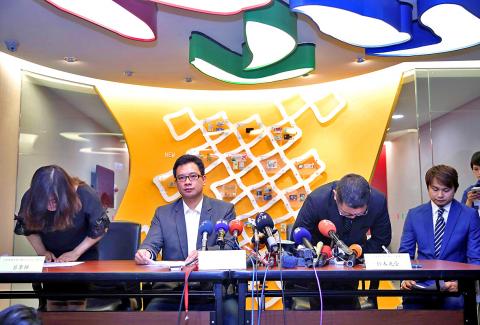 Lu Chi-hua, a representative of Japanese adult video actress Yui Hatano, left, and Yui's agent Mitsukazu Suzuki, second right, bow in apology at a news conference in Taipei yesterday.
Photo: CNA
EasyCard chairman Tai Chi-chuan (戴季全) said that a temporary hold had been placed on sales of the "angel" card, adding that there would be restrictions on where the card could be purchased so that buyer's age requirements could be enforced.
However, he said the company had done nothing illegal in selecting Hatano as a model.
Asked if Hatano's status as an adult video star might harm the reputation of the company and the Taipei City Government, he said that he had not violated "public decency" or intended to challenge legal limits.
The controversy was the result of cultural differences between Japan and Taiwan, he said.
Hatano's agent, Mitsukazu Suzuki, and personal representative Lu Chi-hua (呂季樺) apologized for providing an old photograph.
Suzuki said that while his company had full authorization to provide both pictures, Japanese and Taiwanese had different understandings about using previously publicized photographs.
He said that a new photograph of Yui would be taken for the "angel" card.
He said his firm had represented Hatano for four years and was working to downplay her image as an adult video star.
Lu read a statement from Hatano, who said she was happy to have the opportunity to work with EasyCard, even though her pictures might create controversy.
"Although I am an adult video star, does that mean I cannot give back to Taiwan?" she said in the statement read by Lu.
Although the cards have not been released, seven "angel" cards with the controversial photo were listed yesterday on the Ruten online auction site, priced at more than NT$40,000.
EasyCard spokesman Lin Hsiao-chi (林筱淇) said she had taken 10 sets of the cards out of storage on Wednesday so the media could take pictures, but had lost track of seven sets.
EasyCard had contacted the sellers of the cards on Ruten — but is not considering legal action at this time, she said.
Additional reporting by Abraham Gerber
Comments will be moderated. Keep comments relevant to the article. Remarks containing abusive and obscene language, personal attacks of any kind or promotion will be removed and the user banned. Final decision will be at the discretion of the Taipei Times.