Typhoon leaves six dead, 185 injured
SCENES OF DESTRUCTION: According to the Ministry of the Interior, the typhoon felled at least 3,710 trees and 1,025 signs, and caused flooding in 186 areas nationwide
Typhoon Soudelor ravaged the nation yesterday, bringing strong winds and heavy downpours, with the storm claiming four more fatalities, bringing the death toll since Friday to six. At least least 185 people were injured as of press time last night.
Casualties recorded on Friday and yesterday included a male foreign worker in Yilan County who was killed by a falling sign late on Friday evening, according to information from an intergovernmental ad hoc meeting at the Central Emergency Operation Center.
An 80-year-old man in New Taipei City's Sindian District (新店) was found drowned in his home early yesterday, apparently due to torrential rains flooding his house. He was pronounced dead after an emergency attempt to resuscitate him, the center said.
Firefighters dig out a family of seven that were caught in a landslide in New Taipei City's Wulai District yesterday during the onslaught of Typhoon Soudelor. All seven survived the ordeal.
Photo: CNA
In Kaohsiung, a man, whose identity is pending confirmation, was killed by a falling tree in the city's Fongshan District (鳳山) early yesterday morning, the center said, adding that a firefighter named Chen Hsin-hung (陳信宏) of Pingtung County's Manjhou (滿州) Fire Department was clearing debris from a road when he was fatally struck by a drunk driver.
Four people were missing as of press time, including two residents of New Taipei City's Sansia District (三峽), whose house was destroyed by an overflow of the Jhulun River, and an eight-year-old girl who was swept to sea from a beach in Yilan on Thursday, the center said.
Power outages caused by strong winds were reported nationwide between Friday night and yesterday morning. The Ministry of Economic Affairs said that about 3.5 million businesses and households experienced a blackout during the period.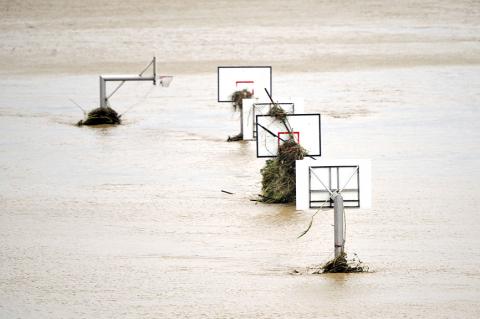 A baseball court in the river park along the Sindian River is flooded after the river was swollen by the rain brought by Typhoon Soudelor on Friday night and yesterday.
Photo: CNA
Areas suffering from cellphone signal interruptions will likely have to wait until tomorrow morning, as work was being carried out to repair telecom providers' 7,429 base stations as of press time yesterday, the ministry added.
More than 55,000 businesses and households were waiting for their land lines to be repaired yesterday afternoon, the ministry said, adding that services are expected to return to normal by 5pm tomorrow.
The severe weather also disrupted the nation's transportation systems, with the Taiwan Railways Administration canceling all trains before 6pm yesterday and the Taiwan High Speed Rail Corp canceling all service before 7pm.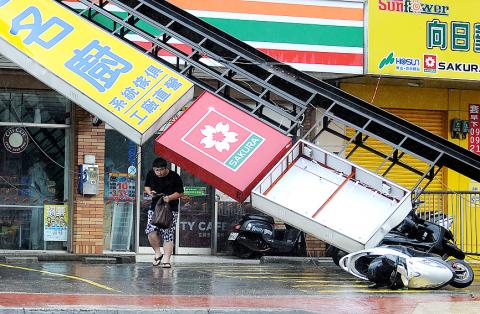 A man in New Taipei City's Bali District ducks under a framework holding several shop signs that was blown to the ground by the strong winds brought by Typhoon Soudelor on Friday night and yesterday.
Photo: Chu Pei-hsiung, Taipei Times
In Taipei, strong winds and debris shut down the above-ground portions of the city's MRT system — Line 1, the Wenhu Line (文湖線); and Line 2, the Tamsui-Xinyi Line (淡水信義線), north of MRT Minquan W Road Station (民權西路). Fifty bus routes running through mountainous areas were also halted.
More than 62,000 households in the city yesterday were left without power at some point yesterday, and 14,000 without water, while 25 people were injured.
Strong winds in Taipei also felled more than 2,400 trees, forcing a halt to garbage collection for a second day to enable the Department of Environmental Protection to focus on clearing roads.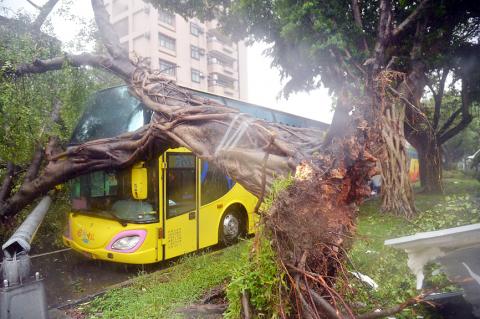 A bus next to Chiang Kai-shek Memorial Hall in Taipei is crushed under a tree toppled by the strong winds brought by Typhoon Soudelor on Friday night and yesterday.
Photo: CNA
According to the Ministry of the Interior, the typhoon felled at least 3,710 trees and 1,025 signs, and caused flooding in 186 areas nationwide.
The ministry said the armed forces deployed 35,206 troops, 2,255 transport vehicles, 284 armored vehicles and 1,347 pieces of engineering equipment, and had helped to evacuate 3,365 people from at-risk areas as of last night.
On the impact the typhoon to the nation's animal husbandry and farming, the Council of Agriculture said the two sectors suffered losses totaling more than NT$118 million.
Farming communities bore the brunt of the storm, constituting NT$85.8 million of the losses, with a total of 1,832 hectares of farmland devastated.
Meanwhile, six offshore wind turbines near Taichung's Gaomei Wetlands (高美濕地) were toppled by strong winds. State-run Taiwan Power Co (Taipower, 台電) said that losses incurred totaled about NT$460 million (US$14.48 million).
A dampener in Taipei 101, designed to enhance the building's stability, marked its biggest displacement ever, 2m, which was recorded at 6:59am yesterday.
The typhoon's strong winds whipped up huge waves that pounded the nation's shorelines
A warship was slightly damaged in Taichung Harbor after a commercial cargo ship broke its anchor and collided with it.
The Republic of China Navy's 9,783-tonne Keelung-class destroyer Makung No. 1805 was struck on its starboard side by the cargo ship at about 5:35am yesterday.
According to the Ministry of National Defense, the Makung No. 1805 was docked at the harbor ahead of the typhoon and the collision resulted in damage to the starboard hull, with water seeping into some compartments.
The impact broke all of the destroyer's anchor chains and the vessel was set adrift, the ministry said.
The crew started the vessel's engines and steered it back to its berth, where it was anchored at the southern end of the harbor, the ministry added.
As of press time last night, Soudelor was still lashing Taiwan and the nation's outlying islands, the Central Weather Bureau said, adding that the typhoon was steadily moving northwest toward China at 18kph.
Additional reporting by Abraham Gerber and Jason Pan
Comments will be moderated. Keep comments relevant to the article. Remarks containing abusive and obscene language, personal attacks of any kind or promotion will be removed and the user banned. Final decision will be at the discretion of the Taipei Times.