Typhoon to take wind out of protests
HOWLING WOLF: Former Bamboo Union leader Chang An-le led a China Unification Promotion Party rally, which used megaphones to accuse students of forgetting their roots
Students occupying the Ministry of Education forecourt to protest the ministry's controversial curriculum adjustments might withdraw as Typhoon Soudelor approaches, National Taichung First Senior High School Apple Tree Commune Club spokesperson Chen Chien-hsun (陳建勳) said yesterday.
"We will put safety before realizing our demands," Chen said. "We do not want more people to be hurt as a result of participating in the movement."
"We will have many more opportunities to continue to push our demands, whether by returning to the Ministry of Education or going elsewhere, so there is no need to gamble everything on this moment," he said.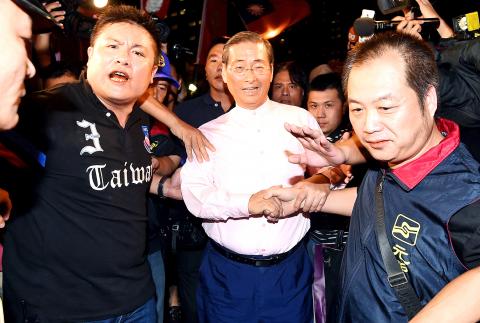 Former Bamboo Union leader and China Unification Promotion Party head Chang An-le, also known as the "White Wolf," center, leads a demonstration in front of the Ministry of Education last night against students occupying the entrance to the Ministry of Education.
Photo: Chu Pei-hsiung, Taipei Times
Students have occupied the site since Friday last week, demanding the withdrawal or suspension of controversial changes to high-school social studies curriculum guidelines that critics said have a "China-centric" focus.
Chen emerged as one of the most prominent student leaders following the withdrawal yesterday of Northern Taiwan Anti-Curriculum Changes Alliance convener Chu Chen (朱震) from the students' "policymaking" group.
His comments marked a retreat from earlier remarks by student spokesman Yi Juo-yu (伊若宇), who had stated that students were leaning toward continuing the occupation of the forecourt, although they were to take down tents and remove supplies.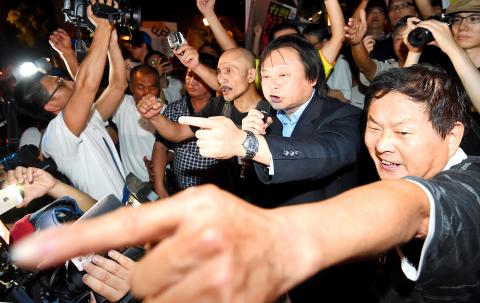 Democratic Progressive Party Taipei City Councilor Wang Shih-chien, second right, addresses a crowd mobilized by former Bamboo Union leader and China Unification Promotion Party head Chang An-le in front of the Ministry of Education last night to oppose students occupying the entrance to the ministry. Wang catapulted to fame for shouting in English: "Over my dead body" when he faced off with Chang during the Sunflower movement last year.
Photo: Chu Pei-hsiung, Taipei Times
He had stated that 10 of a core group of between 20 and 30 student volunteers had expressed willingness to remain in shifts.
Student spokespeople also expressed dissatisfaction with a Legislative Yuan resolution calling for the ministry to establish a "curriculum review committee" to look over controversial guideline adjustments.
Students had originally called for the Legislative Yuan to hold an extraordinary session to directly overturn the guidelines.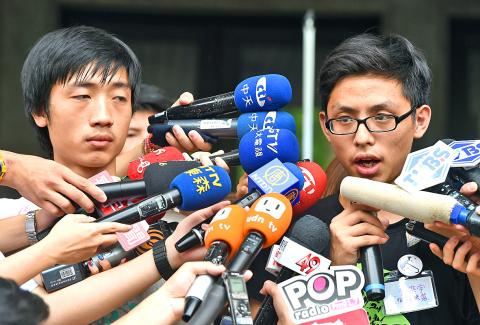 Student protesters Yin Jo-yu, right, and Peng Cheng speak to the media yesterday in front of the Ministry of Education, saying that they would not withdraw from the site despite the approach of Typhoon Soudelor.
Photo: Liao Chen-huei, Taipei Times
"The progress we have gained is not proportional to the sacrifices we have made, so we do not see any reason to withdraw," Yi said.
Taichung First Senior High School student Liao Chung-lun (廖崇倫) said it was difficult to agree to the resolution because it was not a "substantial promise," with no clear plan for implementation.
He emphasized that "suspension" of the guidelines remained the students' demand, with the curriculum review committee only a "necessary means."
Liao added that students were open to talks with ministry officials on participation in the "curriculum review committee," urging the ministry to allow students to participate as full voting members.
Separately yesterday, Minister of Education Wu Se-hwa (吳思華) said that the ministry had formally dropped charges against all of the students who were arrested last week for trespassing on ministry property.
Deputy Minister of Education Lin Teng-chiao (林騰蛟) said that charges would also be dropped against the adults who accompanied students, including three reporters who were arrested.
Lin added that the ministry was open to student representatives participating in the curriculum review committee, saying that besides reviewing the approval process for the guideline adjustments, the committee would also have the power to make amendments.
At about 8:15pm last night, a competing rally was held outside the ministry by the China Unification Promotion Party (CUPP), with powerful loudspeakers broadcasting slogans that accused students of promoting Japanese "imperial citizen education" and "forgetting their ancestors."
Former Bamboo Union leader and party head Chang An-le (張安樂), also known as the "White Wolf," said the rally was meant to support the ministry in "setting things straight," using the curriculum guideline adjustments to reverse a long series of previous changes aimed at promoting Taiwanese independence.
Twin police cordons and barbed wire barriers along Zhongshan S Road's middle lane separated the rally from the students gathered in the ministry's forecourt.
Zhongzheng First Precinct Police Chief Chang Chi-wen (張奇文) repeatedly shouted through a loudspeaker that the gathering was illegal because the CUPP had not applied for a permit.
Comments will be moderated. Keep comments relevant to the article. Remarks containing abusive and obscene language, personal attacks of any kind or promotion will be removed and the user banned. Final decision will be at the discretion of the Taipei Times.