China simulates attack on Presidential Office
'DECAPITATION' STRATEGY: China's CCTV released footage of the maneuvers, which the Ministry of National Defense said hurt cross-strait relations and were unacceptable
The appearance of structures similar to the Presidential Office Building in China's recent war games sparked Internet debate over whether the footage was a targeted provocation against Taiwan and a demonstration of China's willingness to resort to military force to unify Taiwan with China.
In the most recent Military Report show aired by Chinese state-media China Central Television (CCTV) on July 5, exercises at the Zhurihe Training Base in the Inner Mongolia Autonomous Region successfully simulated a "decapitation" strategy and demonstrated high efficiency in intelligence gathering where unmanned aerial vehicles (UAV), helicopters and recon teams sent back hundreds of photographs to command.
The three-minute video clip featured special forces personnel sprinting into a five-story building with a tower in one of the Stride 2015 Zhurihe series of exercises by the People's Liberation Army (PLA).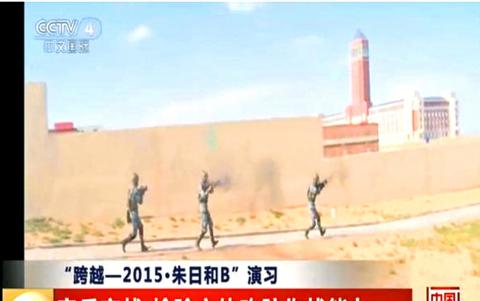 The target building in a Chinese drill recently is seen in a report aired by the Military Report program of China's CCTV-7 in an undated photograph. The building is very similar to Taiwan's Presidential Office.
Photo: CNA screen grab from CCTV
The footage showing Chinese troops maneuvering toward a building resembling the Presidential Office Building was not the first time Chinese forces have simulated an attack on Taiwan in military exercises.
The PLA reportedly built a replica of Taichung's shared-use Cingcyuangang Air Field in China's Gansu Province to simulate attacks on the airfield. The PLA Army, PLA Air Force and special forces also reportedly established a special forces team in the Nanjing military zone that was fluent in Hoklo (commonly known as Taiwanese) earlier this year.
Ministry of National Defense spokesman Major General David Lo (羅紹和) yesterday said that the implied target of the military exercise was detrimental to cross-strait relations and was not an action either the Taiwanese or the international community could accept.
The ministry is up to date on all PLA exercises and while adhering to President Ma Ying-jeou's (馬英九) instructions of "three defensive lines" and not embarking on an arms race with China, the military maintains a force that would effectively deter Taiwan's enemies and capably defend the nation, Lo said.
The three defensive lines refers to Ma's previous statements, with the first being institutionalized relations with China; the other two the country's soft power and international support for Taiwan.
Additional reporting by CNA
Comments will be moderated. Keep comments relevant to the article. Remarks containing abusive and obscene language, personal attacks of any kind or promotion will be removed and the user banned. Final decision will be at the discretion of the Taipei Times.