Hung Hsiu-chu stands by policy
WOOD MEETING: UK Representative to Taiwan Chris Wood discussed issues including cross-strait relations with the KMT's only presidential hopeful
Chinese Nationalist Party (KMT) presidential hopeful Hung Hsiu-chu (洪秀柱), if elected, would base her policy on her "one China, same interpretation" proposal, despite it being left out of the party's newly drafted policy platform, Hung's spokesman Philip Yang (楊永明) said yesterday.
Yang made the remarks in response to media queries regarding the omission of Hung's proposal from the policy platform, which is pending approval from the KMT national congress on July 19.
Hung will show nothing but respect for the party's campaign platform, which is predominantly focused on the KMT administration's current policy, but "as a presidential hopeful, she has to set out her policy proposals for the future," Yang said.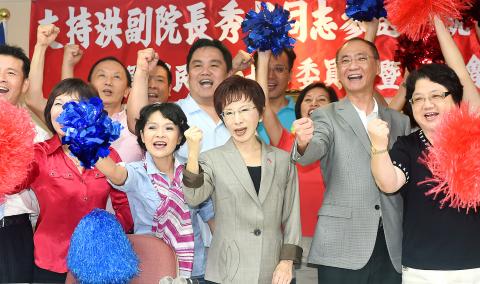 Chinese Nationalist Party (KMT) presidential hopeful Hung Hsiu-chu, front center, gestures alongside KMT Taipei City Councilors in Taipei yesterday.
Photo: Liao Chen-huei, Taipei Times
If Hung is elected, she would implement policy in accordance with the "one China, same interpretation" formula, Yang said.
The "one China, same interpretation" proposal was described by Hung as an "advanced version" of the so-called "1992 consensus," backed by President Ma Ying-jeou (馬英九).
According to Hung's interpretation, "one China" would be the Republic of China (ROC), not the People's Republic of China.
The "1992 consensus" refers to a supposed understanding reached during cross-strait talks that both Taiwan and China acknowledge that there is "one China," with each side having its own interpretation of what "China" means.
Although Hung has praised the apparent cross-strait rapprochement that has taken place under Ma's administration — which she attributes to his adherence to the "1992 consensus" — she questions whether Beijing has ever recognized the existence of the ROC.
She has said that her formula would make China "accept the fact that the ROC exists."
Hung's formula, which has raised concerns that she plans to forge ahead with unification with China, was not incorporated in the proposed revisions to the KMT's policy platform drawn up earlier this week.
Hung's proposal of a cross-strait peace treaty contingent on five principles, including compliance with the ROC Constitution, was also omitted from the draft version.
The KMT has written into the draft policy platform the "1992 consensus," which includes a pledge to "consolidate the 1992 consensus."
UK Representative to Taiwan Chris Wood yesterday visited Hung at her office at the Legislative Yuan to discuss a wide range of issues related to cross-strait relations, the economy, energy and young people, Yang told reporters following the 40-minute meeting.
Wood was concerned about Hung's stance on cross-strait relations and Hung explained her position to him, including the need for both sides of the Taiwan Strait to step into "deeper water" to address "political factors" standing in the way of Taiwan's participation in regional affairs, Yang said.
Yang said Wood extended his congratulations to Hung because she expected to be nominated by the KMT as its presidential candidate next month.
As Taiwan is likely to have a female president next year, assuming Hung runs against Democratic Progressive Party (DPP) presidential candidate Tsai Ing-wen (蔡英文), Wood said the race would have a positive effect on Taiwan, according to Yang.
Wood did not answer questions from reporters regarding the meeting.
Separately, on the question of whether Hung would visit Washington before the election to share her views on cross-strait relations, Yang said that discussions on the matter were ongoing.
"We are assessing all possibilities," he said.
"[A US trip] could take place before the election or after the election," Yang said.
Hung has given various reasons for not embarking on a trip to the US, another notable example of her striking a discordant note with the KMT.
Comments will be moderated. Keep comments relevant to the article. Remarks containing abusive and obscene language, personal attacks of any kind or promotion will be removed and the user banned. Final decision will be at the discretion of the Taipei Times.