McDonald's to sell local branches
SUPER-SIZE SALE: The company plans to sell off its 350 company-owned outlets as franchises amid lackluster performance. McDonald's said it is not exiting the market
McDonald's Corp is looking to sell its 350 branches in Taiwan to potential franchisees as part of the US fast-food chain's global turnaround plan, according to a company statement released yesterday.
That would put an end to its 31-year tradition of company-owned stores in this nation.
A lackluster performance in Taiwan led McDonald's to consider selling a 90 percent stake in its local operation to potential franchisees, who would be required to sign a 20-year franchise contract, a reliable source said.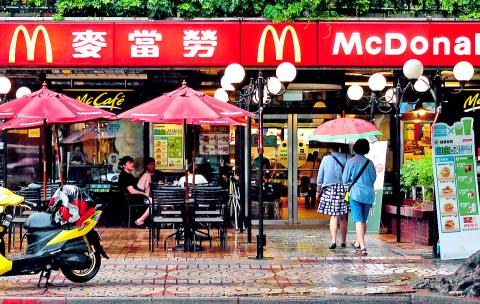 People visit Taiwan's first McDonald's branch at the intersection of Dunhua N Road and Minsheng E Road in Taipei yesterday.
Photo: Chu Pei-hsiung, Taipei Times
McDonald's said in a statement that its decision was in line with its turnaround plan unveiled last month, which includes a restructuring of its international business.
McDonald's said it is seeking suitable local franchisees.
"Ideal candidates would have strong operational capabilities and a full understanding of the Taiwanese market," the statement said.
"This plan is still in the preliminary stage. We do not have further information at the moment," McDonald's said. "No organizational restructuring will occur during the process of the [ownership] transfer. McDonald's is not planning to exit the Taiwanese market."
The Chinese-language Business Weekly yesterday reported that McDonald's told local employees during an internal meeting on June 12 about the plan. The report said McDonald's could secure a deal by the end of this year at the earliest.
McDonald's might sell its local operation to foreign buyers, as local food conglomerate Uni-President Enterprises Corp (統一企業) might not be on its short list, the report said.
McDonald's outlets in Taiwan employ about 16,000 people.
The Ministry of Economic Affairs' Investment Commission said it has not received any applications from McDonald's to withdraw its investment from Taiwan.
If McDonald's wishes to pull out its NT$2.756 billion (US$88.75 million) investment, it would have to submit such an application, and potential franchisees would also have to submit applications for deliberation, commission official Yang Shu-ling (楊淑玲) told a media briefing in Taipei.
The Department of Commerce said it is common for US fast-food chains to adjust the proportion of company-owned or franchisee-run stores.
"McDonald's decision does not mean it has lost faith in Taiwan's investment environment," department Director-General Cynthia Kiang (江文若) said.
The company's move shows that Taiwan is a mature market, the department said in a statement.
Additional reporting by Lauly Li
Comments will be moderated. Keep comments relevant to the article. Remarks containing abusive and obscene language, personal attacks of any kind or promotion will be removed and the user banned. Final decision will be at the discretion of the Taipei Times.