'Made in China' model set to hurt Taiwanese firms
China's plan to cultivate a domestic supply chain for the country's high-tech manufacturing sector is expected to pose a serious threat to Taiwanese companies, government sources said on Saturday.
Ministry of Economic Affairs sources said Beijing's efforts to help its own high-tech supply chain flourish to lower dependence on imported parts have already reduced its trade dependence on Taiwan.
The plan unveiled last month by Beijing to create a manufacturing revolution underpinned by smart technologies over the next 10 years could deal a further blow to Taiwan's exports, they said.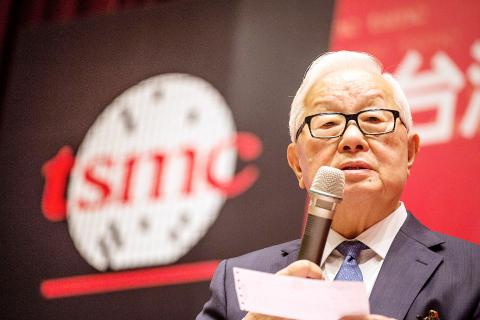 Taiwan Semiconductor Manufacturing Company chairman and founder Morris Chang speaks at the company's annual general meeting in Hsinchu on June 9.
Photo: Bloomberg
The latest plan for China to grow its own high-tech sector, called "Made In China 2025," takes aim at various sectors, including information technology, and puts a heavy emphasis on semiconductors.
According to figures compiled by the Bureau of Foreign Trade, the ratio of China's imports from Taiwan to total imports fell to 7.76 percent last year, from 11.3 percent in 2005.
South Korea has faced a similar trend, though the decline has been less precipitous. South Korea's share of China's imports fell from 11.64 percent in 2005 to 9.69 percent last year, according to the figures.
In 2000, semi-finished products made up almost 60 percent of China's total imports, but the ratio fell to about 20 percent between 2012 and last year, the bureau's statistics showed, indicating that China's efforts to upgrade its industrial supply have paid off.
Ministry sources said that the so-called "red supply chain," referring to the fast-growing cluster of high-tech components cultivated by the Chinese government, could send more ripples through Taiwan's high-tech sector.
The "Made In China 2025" plan has set its sights on mastering critical technologies in the integrated circuit sector, ranging from IC design, wafer foundry operations, and IC packaging and testing services — all areas in which Taiwanese manufacturers excel.
It would build on major strides already made by China in upgrading its semiconductor sector. In 2009, China-based HiSilicon Technologies Co (海思半導體) was the only Chinese IC designer to rank in the top 50 in the world, but there were nine Chinese companies in the top 50 last year.
While Taiwan Semiconductor Manufacturing Co (台積電) chairman Morris Chang (張忠謀) still has faith in Taiwan's semiconductor sector, saying the gap between Taiwan and China is widening instead of narrowing, Nanya Technology Corp (南亞科技) president Charles Kau (高啟全) said that China's high-tech development initiatives "will seriously affect Taiwan's IC industry."
Paul Wang (王伯元), chairman of Internet communications device supplier Sercomm Corp (中磊), said the government should follow in China's footsteps and set up a NT$100 billion (US$3.22 billion) fund to support the local semiconductor industry.
China's initiative may prove damaging to Taiwan's semiconductor sector by more than simply supplanting imports from Taiwan with home-grown products.
Analysts said many IC firms in China are gearing up to woo high-tech talent from Taiwan by offering people attractive compensation packages, while picking up technology by purchasing patents.
These moves could eventually erode Taiwan's competitive edge in the global semiconductor industry, analysts said.
Comments will be moderated. Keep comments relevant to the article. Remarks containing abusive and obscene language, personal attacks of any kind or promotion will be removed and the user banned. Final decision will be at the discretion of the Taipei Times.