DPP's Tsai dominates poll against KMT's Hung
Democratic Progressive Party (DPP) presidential candidate Tsai Ing-wen (蔡英文) enjoys much more popular support than Chinese Nationalist Party (KMT) hopeful Hung Hsiu-chu (洪秀柱), according to a poll conducted by the Cross-Strait Policy Association.
Tsai led Hung by 50.2 percent to 29.3 percent, the poll found.
TVBS had released a different poll on Wednesday showing Hung leading.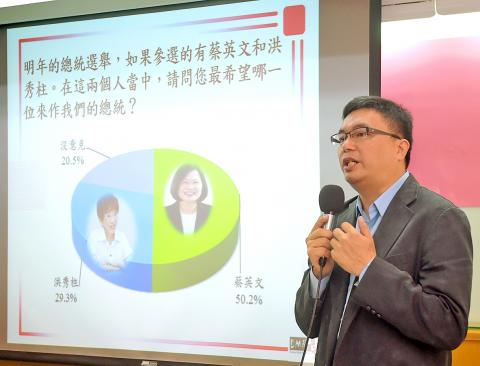 A speaker for the Cross-Strait Policy Association announces yesterday in Taipei the results of a poll which gave Democratic Progressive Party presidential candidate Tsai Ing-wen a commanding lead over Chinese Nationalist Party (KMT) hopeful Hung Hsiu-chu.
Photo: Wang Min-wei, Taipei Times
The DPP chairperson outperformed the deputy legislative speaker in all six indicators gauging the two candidates' "image" in the eyes of respondents, association secretary-general Anson Hung (洪耀南) said.
Anson Hung is also a former chief executive officer of Xfuture.org, also known as the Future Events Exchange (未來事件交易所), which bases its predictions on "prediction markets."
On leadership, Tsai won a support rating of 45.5 percent against Hung Hsiu-chu's 31.5 percent; on ability to safeguard Taiwan's interests, 44.7 percent to 31.6 percent; trustworthiness, 47.3 percent to 32.6 percent; policy feasibility, 39.3 percent to 34.3 percent; understanding of public opinion, 48.6 percent to 28.9 percent; and global perspective, 58.9 percent to 18.6 percent.
In an additional category — cross-strait policy acceptability — the survey used the candidates' descriptions of their respective cross-strait policy to gauge public opinion.
Again, Tsai found greater support for her stance.
The poll described Tsai's cross-strait policy as "maintaining the 'status quo,' which is to establish consistent, predictable and sustainable cross-strait relations under the Republic of China's constitutional system."
Hung Hsiu-chu's cross-strait policy was described as: "one China, common interpretations (一中同表)" and defining the cross-strait relationship as "two constitutional governments in a whole China."
Tsai gained an approval rating of 63.1 percent, while 22.4 percent said they disapproved.
Just 31.2 percent of respondents supported the deputy legislative speaker's cross-strait view, with 51.7 percent disagreeing.
"Tsai, in both global perspective and cross-strait policy, holds a lead of 30 to 40 percentage points, which is quite rare, as the KMT usually has the whip hand on these two issues," association president Tung Chen-yuan (童振源) said.
Hung has been inching toward the "deep blue" voters, which can be seen with her cross-strait policy, but her strategy has harmed her popularity among swing voters, Tung said.
"On cross-strait relations, Tsai won more support than disapproval, regardless of party affiliation," he added. "About 88.2 percent of pan-green voters, 48.6 percent of pan-blue voters and 47.7 percent of neutral voters agreed with Tsai on her cross-strait view, while only 13.3 percent of pan-greens, 61 percent of pan-blues and 19.6 percent of neutral voters agreed with Hung's."
Tung said that Hung Hsiu-chu might be considered "outspoken" for her stance, but "Taiwanese doubt her [ability] to safeguard Taiwan's sovereignty, dignity and interests."
Generally speaking, the challenger is usually the one who criticizes the ruling party's policy, and the ruling party candidate supports existing policy. However, Hung Hsiu-chu is the one who is challenging the existing system," Tung said. "She has said she would propose signing a peace treaty [with China], but we have seen President Ma [Ying-jeou, 馬英九] make the same proposal in 2011, but backtracked after meeting strong opposition."
"Regarding her 'one China, common interpretation,' we all know that there lacks a consensus between [Taiwan and China] over 'one China,' which is why the Ma administration has resorted to its '1992 consensus' and 'respective interpretations' to obfuscate the issue. However, Hung [Hsiu-chu] is going against the trend by calling for a 'common interpretation,' which China would be more than willing to accept. Apparently the definition of the 'common interpretation' would not be up to Hung [Hsiu-chu], who would be pressured to adopt China's 'one China' principle," Tung said.
Association vice president Justin Chen (陳建仲) said that Ma's low popularity and KMT infighting would be major stumbling blocks.
Comments will be moderated. Keep comments relevant to the article. Remarks containing abusive and obscene language, personal attacks of any kind or promotion will be removed and the user banned. Final decision will be at the discretion of the Taipei Times.