About 60 detained in military probe
CHINESE WORK? Prosecutors said that Chung Hsin Electric and Machinery Manufacturing subcontracted work that saw parts for military vehicles made in China
Public prosecutors have detained dozens of military officials and civilian defense contractors for questioning as part of a massive operation yesterday investigating military corruption in which contractors allegedly provided cheap, inferior components from China that were used to produce CM-32 "Clouded Leopard" armored vehicles.
The operation involved raids that resulted in about 60 people being detained, along with the seizure of documents and other evidence at 37 locations across the nation, including the Ministry of National Defense's Procurement Office, the Ordnance Readiness Development Center in Nantou County and the ministry's Armaments Bureau 209th Arsenal, which has its facilities at the ordinance center.
Military officials and supervisors of the ministry's procurement program allegedly colluded with unqualified contractors over a NT$7.6 billion (US$243.9 million) tender package in 2012 to provide chassis and power equipment for the CM-32 vehicles, which were developed by the ordinance center, the military's main production and maintenance facility for tanks and armored personnel carriers.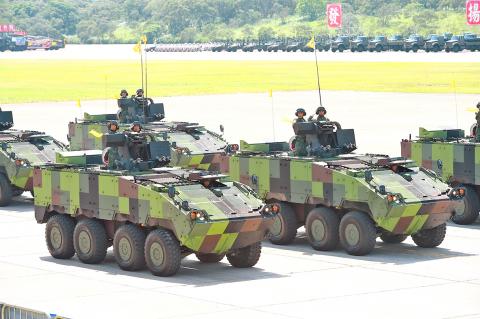 CM-32 "Clouded Leopard" armored vehicles yesterday take part in a rehearsal in Hsinchu County's Hukou Township for a military show to commemorate the 70th anniversary of the end of World War II to be held next month.
Photo: Chang Chia-ming, Taipei Times
The scandal has been reported as a breach of national security and unauthorized disclosure of classified military material, as contractors allegedly employed Chinese workers and had Chinese subcontractors producing parts in the project's supply chain.
Top executives, managers and accountants of contractors were summoned for questioning by prosecutors, including from Chung Hsin Electric and Machinery Manufacturing Corp (CHEM, 中興電工), Yi Rong Technology Co (億嶸科技), Wei Shuan Co (崴軒) and Chi Fu Industry (啟福工業).
CHEM was contracted for the project after a bid NT$4.8 billion, but the company did not manufacture parts and equipment. CHEM subcontracted the manufacturing portion of the project to Yi Rong Technology, Wei Shuan and Chi Fu Industry.
However, prosecutors said the three subcontractors do not have the certification required in the contract.
The contract specified that all manufacturing had to be done domestically by Taiwanese, prohibiting the contractor and its partner companies from employing Chinese workers or workers from other foreign nations, while no materials and parts from China or other foreign countries were to be used, prosecutors said.
Contractors breached the terms of the deal, prosecutors said.
The deals had undermined national security, while there remains suspicion that military officials received kickbacks and other inducements, prosecutors added.
The investigation is focused on whether military officials were "bought off" during the tender procurement process or during the final acceptance and check phase, prosecutors said.
Equipment and parts for the project were delivered in 2012 for assembly and testing at the 209th Arsenal.
The CM-32 vehicles were reported to have numerous problems, including a high rate of defective parts, leading to a judicial probe, which began about a year ago.
Comments will be moderated. Keep comments relevant to the article. Remarks containing abusive and obscene language, personal attacks of any kind or promotion will be removed and the user banned. Final decision will be at the discretion of the Taipei Times.