Nationwide rallies decry air pollution
FACELESS: College students accused the Environmental Protection Administration of ignoring the concerns of the public regarding the nation's deteriorating air quality
People across the nation yesterday held demonstrations to raise awareness of the negative impact air pollution has on public health.
Parents and children dressed up as superheroes took to the streets in Yunlin County, where the nation's sixth naphtha cracker, managed by the Formosa Plastics Group, is located, as a symbol of "fighting off" air pollution.
College students — wearing masks of "No-Face," a character from Japanese filmmaker Hayao Miyazaki's Spirited Away — said Yunlin has borne the brunt of deteriorating air quality in Taiwan in recent years, but the Environmental Protection Administration (EPA) has downplayed the severity of the problem and adopted a passive attitude in addressing air pollution.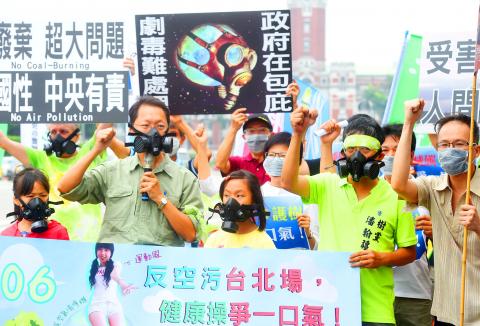 Participants in a march against pollution demonstrate in front of the Presidential Office Building in Taipei yesterday.
Photo: Chien Jung-fong, Taipei Times
The students said the EPA has ignored the public as if it were faceless and mute, with their costumes signifying a "silent protest" against the agency's indifference.
The demonstrators called for the establishment of more air quality survey stations nationwide and urged authorities to push for agreements with corporations to partially suspend operations on days when air quality is poor.
Yunlin County Commissioner Lee Ching-yung (李進勇) and Democratic Progressive Party Legislator Liu Chien-kuo (劉建國) participated in the demonstration.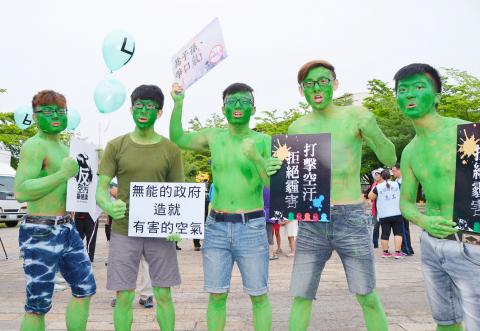 Students participate in a march against pollution in Yunlin County yesterday.
Photo: CNA
Lee said the county government is against pursuing economic development at the cost of public health.
He said that the central government should not use economic growth as a pretext to protect large corporations and called on industrial firms to fulfill their corporate social responsibility by using clean fuels.
Despite being planned as a peaceful event, tensions rose when several demonstrators tried to break into the naphtha cracker complex, with scuffles breaking out between the protesters and police.
In Kaohsiung, protesters rallied against perceived air pollution from the South Star ferry special zone project proposed by the Kaohsiung City Government.
Demonstrators said the project to establish a ferry manufacturing zone in the Dalinpu Community (大林埔) would leave the community cornered by the zone, existing smelters, power plants and petrochemical plants, making it difficult for factory emissions to dissipate.
They said the municipal government should install air purifiers in their homes if it presses on with the pollution-intensive project.
In Taipei, members of the Trees Party and children acted out a skit on Ketagalan Boulevard, in which they donned gas masks while exercising next to an "air quality flag" indicating dangerous levels of air pollution.
Trees Party Cochair Lin Chia-yu (林佳諭) said that, as people breathe more heavily while exercising, inhaling large amounts of airborne pollutants in dirty air could have a negative effect on children.
Comments will be moderated. Keep comments relevant to the article. Remarks containing abusive and obscene language, personal attacks of any kind or promotion will be removed and the user banned. Final decision will be at the discretion of the Taipei Times.