DPP's Tsai visits White House, US State Department
TAIWANESE FIRST: Tsai Ing-wen's meeting with Evan Medeiros at the White House on Wednesday has been seen as a big breakthrough for US-Taiwan diplomatic relations
Following a landmark visit to the White House on Wednesday, Democratic Progressive Party (DPP) Chairperson Tsai Ing-wen (蔡英文) met US Deputy Secretary of State Antony Blinken on Thursday, making her the first Taiwanese presidential candidate to have entered the US Department of State headquarters.
US Department of State officials said at a post-meeting press conference that they appreciated Tsai's visit, during which she held "constructive" talks with US officials.
Based on the US' "one China" policy — as stipulated in the Three Joint Communiques between Washington and Beijing and the US' Taiwan Relations Act — the US has developed solid unofficial ties with Taiwan, the officials said.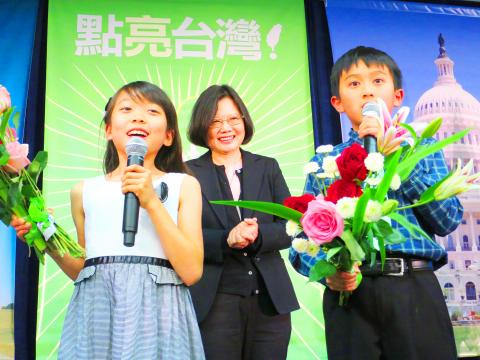 Two Taiwanese expat children yesterday give a performance in Hoklo (commonly known as Taiwanese) in Washington to wish Democratic Progressive Party Chairperson Tsai Ing-wen, center, success in January's presidential election.
Photo: Chen Hui-ping, Taipei Times
The US has committed to supporting Taiwan's security, freedom from coercion and economic prosperity, while helping it attain dignity and respect in the international community, they added.
Tsai entered the Harry S. Truman Building — the US Department of State headquarters — in the company of DPP Secretary-General Joseph Wu (吳釗燮), DPP Legislator Hsiao Bi-khim (蕭美琴) and the party's Washington liaison, Michael Fonte.
The meeting with Blinken lasted about an hour.
Asked if she felt the US government has "upgraded" its treatment of her compared with her visit in 2011, Tsai said: "This is a simple fact. I walked in [the building] and that is it."
Tsai's meeting with the US Special Assistant to the President and Senior Director for Asia Evan Medeiros at the White House on Wednesday has been seen as a major political breakthrough for Taiwan-US relations, as she was the first Taiwanese presidential candidate to have visited the White House — a privilege not granted to Tsai on her last visit in 2011, nor to President Ma Ying-jeou (馬英九), who visited Washington as then-Taipei mayor and KMT chairman in 2006, nor to former DPP chairman Frank Hsieh (謝長廷), who visited the US as the DPP presidential candidate in 2007.
Tsai on Wednesday also met with former US deputy secretary of state Richard Armitage and former assistant secretary of state for East Asian and Pacific affairs Randall Schriver.
Separately on Thursday, while addressing a dinner held for Taiwanese expatriates in Washington, Tsai said she does not need to have her qualifications evaluated in any other nation and needs only to answer to 23 million Taiwanese.
Tsai said that the purpose of her US visit is not to have a job interview, but to convey two messages — that Taiwanese will stick to a democratic and free lifestyle, and that she is responsible and determined to maintain peace and stability across the Taiwan Strait.
Tsai was responding to comments made earlier this week by Chinese Ambassador to the US Cui Tiankai (崔天凱).
Noting that some people have said Tsai's visit is aimed at seeking Washington's endorsement prior to January's election, Cui said he wondered why she would talk to foreigners, but not directly to her compatriots on the other side of the Taiwan Strait.
Additional reporting by CNA
Comments will be moderated. Keep comments relevant to the article. Remarks containing abusive and obscene language, personal attacks of any kind or promotion will be removed and the user banned. Final decision will be at the discretion of the Taipei Times.