Anti-China demonstrators attacked by black-clad men
Four young people protesting against China's Taiwan Affairs Office Minister Zhang Zhijun (張志軍) in Kinmen were injured when they were attacked by black-clad men who had gathered to welcome his arrival, Taiwan Solidarity Union (TSU) Department of Youth Affairs director Chang Chao-lin (張兆林) said yesterday.
An attack against a young office worker surnamed Chang (張) resulted in the dislocation of his right shoulder, Chang Chao-lin said at 5pm, when Chang was in the emergency room of Kinmen Hospital for treatment.
Two college students were also at the hospital at that time for treatment after altercations, he said.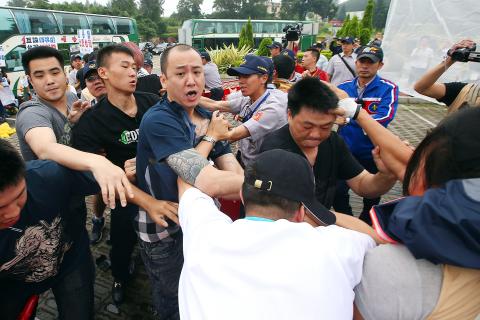 Supporters and opponents of a meeting in Kinmen County between Mainland Affairs Council Minister Andrew Hsia and China's Taiwan Affairs Office Minister Zhang Zhijun yesterday scuffle outside the meeting venue.
Photo: Chen Chih-chu, Taipei Times
One, surnamed Lee (李), suffered lacerations to his right ear after several black-clad men hit him over the head, while the other, surnamed Wang (王), had bruises on his head and hands from beatings, Chang Chao-lin said, adding that he was also kicked in the stomach.
"We were just voicing our opinions within the areas designated by the police as 'protest areas.' All of a sudden, about several dozen black-clad men rushed into the area and began to beat us," Chang Chao-lin said.
The attack began when the group of about 70 protesters organized by the TSU threw a smoke grenade when Zhang's motorcade passed.
Chang Chao-lin said the grenade was harmless.
"Because we were kept at a distance from Zhang, we had to do something to let him see our demands," Chang Chao-lin said.
"Go back [to China]," the TSU protesters shouted, holding posters that said Zhang came with "united front" tactics to subdue Taiwan, and expressing opposition to the proposed plan for representative offices on both sides of the Strait and to the bid to join the China-led Asian Infrastructure Investment Bank, which they said would defraud Taiwan.
Zhang arrived at Kinmen harbor at about noon for a two-day visit that began with a meeting with Mainland Affairs Council Minister Andrew Hsia (夏立言).
Zhang was met by a crowd of between 400 and 500 people, including the men dressed in black and people carrying the banners of pro-unification groups, including China Unification Promotion Party, China Production Party and Patriot Association.
Chang Chao-lin accused the police of negligence over the assault.
"There were just four or five police officers stationed around us, even through they had seen several dozen black-clad men with gang tattoos who were watching us from the very beginning of the protest," Chang Chao-lin said.
The black-clad men who were eventually taken away by the police were later released, Chang Chao-lin said.
"The police caught them red-handed. How could they let them go?" Chang Chao-lin asked.
Hung Chun-yi (洪俊義), commander of the Criminal Investigation Division of the Kinmen County Police Bureau, said that the police detained a man surnamed Wu (吳) and is checking for three other suspects they detained in the video footage taken by the police.
A man in the crowd welcoming Zhang was also injured, Hung said.
Comments will be moderated. Keep comments relevant to the article. Remarks containing abusive and obscene language, personal attacks of any kind or promotion will be removed and the user banned. Final decision will be at the discretion of the Taipei Times.