China rejects Taipei's defiance on law
'DISPLEASURE': Article 11 of Chinese law states that protecting China's sovereignty and territorial integrity is an obligation 'for all Chinese people,' including Taiwanese
Taipei's protest against the inclusion of Taiwan in China's pending National Security Law was expressed via Mainland Affairs Council Minister Andrew Hsia (夏立言), but was rejected by China's Taiwan Affairs Office Minister Zhang Zhijun (張志軍) at their first meeting in Kinmen yesterday.
Hsia told a post-meeting news conference that he conveyed the public's dissatisfaction at the article about Taiwan in the law and a statement signed between China and Belarus, in which Minsk said it opposes Taiwan's participation in international organizations that require statehood for membership.
Article 11 of the law stipulates that the protection of China's sovereignty and territorial integrity is an obligation for "all Chinese people," including the people of Taiwan, Hong Kong and Macau, and that no division is to be tolerated.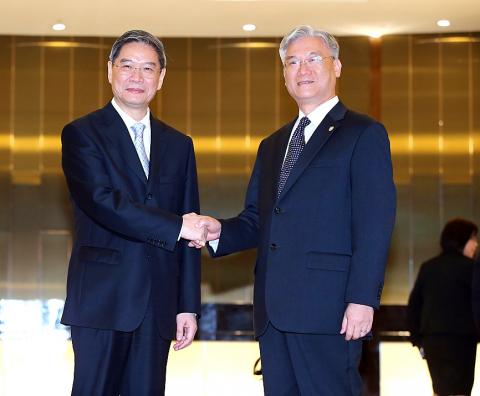 Mainland Affairs Council Minister Andrew Hsia, right, shakes hands with China's Taiwan Affairs Office Minister Zhang Zhijun as they meet on Kinmen yesterday.
Photo: EPA
"I reiterated our positions about and the public's negative reactions to [the two issues] and urged [China] to sympathize with the concerns of Taiwanese," Hsia said.
Hsia said he told Zhang that China should show more kindness toward Taiwan with regard to the nation's participation in the international community, because only by doing so can China contribute to the peaceful development of cross-strait relations.
Zhang responded by saying that what was stated in its National Security Law about Taiwan was in line with its policy, which has not changed for years, Hsia said.
"We voiced our displeasure and he explained his stance. That ended the matter," Hsia said.
Last week, Hsia promised lawmakers at a meeting of the legislature's Foreign Affairs and National Defense Committee that he would protest the law.
Hsia did not do so in public, but in a closed-door meeting with Zhang.
In Hsia's opening remarks before the meeting, he said that China should heed discontent among Taiwanese over issues related to "security" and "dignity," without specifying any specific events.
"Especially some recent events related to Taiwan's security, dignity and international participation that have raised concerns among the public," Hsia said.
The first Hsia-Zhang meeting was the third set of high-level cross-strait talks since the first official contact between the governments on either side of the Taiwan Strait took place in Beijing in February last year.
Not much progress was made in discussions about Taiwan's bid and nomenclature in the China-led Asian Infrastructure Investment Bank (AIIB), Hsia said.
Given that the articles of agreement for the AIIB are still under discussion among its founding members, it was "still too early to" discuss these issues, Hsia said.
"With regard to the designation, we have repeatedly said that 'Chinese Taipei' is our bottom line. I am sure that they understand this well," Hsia said.
At a separate post-meeting news conference, Zhang said that China "welcomes" Taiwan's participation in the AIIB and its concerns.
"Related authorities will positively consider the concerns Taiwan has raised and stay in communication with Taiwan to explore possible ways for Taiwan to join the AIIB under an appropriate designation," Zhang said.
On the request repeatedly made that China make Taiwan a transit point for its tourists traveling to other destinations to boost the nation's aviation industry, Hsia was optimistic that technical issues would be ironed out mid-year.
"We hope to reach a consensus in the middle of this year," Hsia said.
Zhang said that both sides should make preparations for Chinese tourists to transit in Taiwan to other countries, including "some measures to facilitate transit."
When asked by reporters whether China's repeated demand that Taiwan open the middle line of the Taiwan Strait to accommodate cross-strait flights would be one of the "measures," Hsia said the issues were not linked.
Beijing has previously tied the transit issue to its demand that Taiwan allow cross-strait flights to take routes directly across the Taiwan Strait rather than either across the East China Sea or the South China Sea.
"There is no chance that we will open the middle line at this stage. The transit issue had nothing to do with the ban on flights passing across the middle line," Hsia said.
They did not go into details of what the measures would be.
Comments will be moderated. Keep comments relevant to the article. Remarks containing abusive and obscene language, personal attacks of any kind or promotion will be removed and the user banned. Final decision will be at the discretion of the Taipei Times.