Taipei orders Farglory to stop Dome construction
HALT WORK ORDER: Mayor Ko Wen-je said the company must clearly explain how it would address safety issues at the site highlighted by the city before work on the foundations can continue
The Taipei City Government last night ordered Farglory Land Development Co (遠雄建設) to halt construction of the Taipei Dome, citing concerns about "ongoing damage" to the neighboring Songshan Tobacco Factory and a "threat" to the Taipei MRT Bannan (板南) Line, which runs next to the construction site.
The announcement came less than 10 hours after Taipei Mayor Ko Wen-je (柯文哲) said he felt "the company is too arrogant" and was considering ordering the firm to cease construction until it provides a clear explanation of how it plans to guarantee safety at the site.
Ko said he was "angry" and "could not stand" Farglory's "insincere" attitude.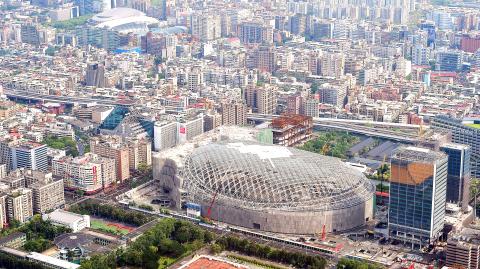 The Taipei Dome construction site is pictured in this undated photo. The Taipei City Government yesterday ordered a halt to construction work on the complex.
Photo: Fang Pin-chao, Taipei Times
The company submitted only a single sheet of paper after being requested to provide a report on improving safety on Monday, even though abnormalities had been found on site since March.
"I feel [Farglory] is irresponsible, because it now says that construction on the foundations [of the Taipei Dome] would be drawn out until August," Ko said.
The city government agreed to allow construction to continue when safety concerns first emerged on the grounds that the Taipei Dome would be structurally unstable until the foundations were completed.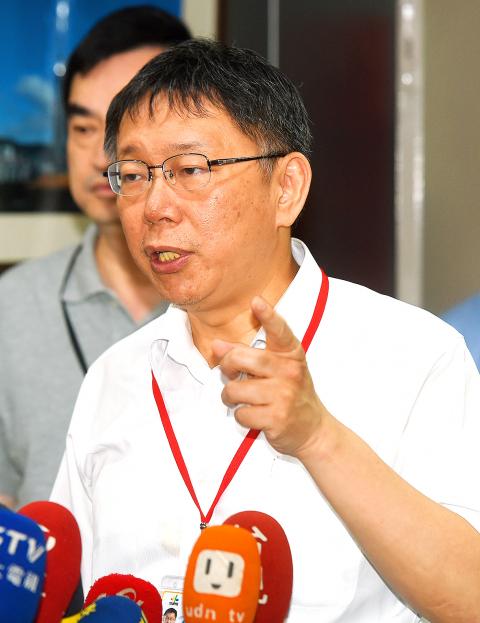 Taipei Mayor Ko Wen-je speaks at a meeting with borough wardens at Taipei City Hall yesterday, accusing Farglory Land Development Co of being "arrogant" and "insincere."
Photo: Chien Jung-fong, Taipei Times
When asked if halting construction would be dangerous, Ko said that the firm had to provide a clear explanation of how it would address safety issues if construction was allowed to continue.
He added that the safety issues had to be addressed before any discussions took place on contractual issues.
Numerous media reports earlier yesterday said that the city government had reached a preliminary consensus with Farglory in talks on Tuesday between Farglory chairman Chao Teng-hsiung (趙藤雄) and Taipei Deputy Mayor Teng Chia-chi (鄧家基).
The reports said Farglory and the city had agreed to set up a third-party commission to investigate safety at the venue, breaking a standoff over the validity of a city-sponsored probe that called for either the Dome or its neighboring shopping mall to be demolished.
Teng denied the existence of any consensus.
"The city government absolutely did not accept Farglory's proposals for a third-party evaluation," he said, adding that Taipei had instead invited Farglory to submit its own plans to improve site safety.
"Without substantial content [regarding improving site safety], calling for a third-party evaluation is simply equivocating," Teng said.
Farglory also chose to stall on construction safety issues in the hopes that the issue would blow over by the time the site's foundations were completed, he said, adding that the issue was separate from concerns over the safety of the completed site.
As construction risks could increase with time, Farglory was responsible for giving the city a clear response on the costs and benefits of continued construction, he said.
Ko also said that Chao "reeked of alcohol" when he came in for talks, but added that he himself had not met with Chao.
In a statement, Farglory rejected Ko's alcohol comment and called on the city to name the person who had given the mayor "mistaken information."
The firm said the comment was a "groundless accusation" bordering on slander and "public humiliation," and that it would take legal measures in response.
Comments will be moderated. Keep comments relevant to the article. Remarks containing abusive and obscene language, personal attacks of any kind or promotion will be removed and the user banned. Final decision will be at the discretion of the Taipei Times.