China planning to build 42,000 drones, report says
China plans to build nearly 42,000 military drones over the next eight years, a Pentagon report estimated on Friday.
The land and sea-based drones are expected to cost about US$10.5 billion.
While the US Department of Defense's annual report to US Congress on the Chinese military did not detail the potential impact of such a huge drone fleet on Taiwan, an analyst at a Washington-based think tank said it would be "substantial."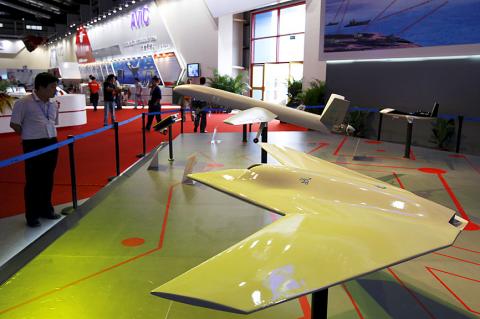 A model of a Chinese-made Warrior Eagle autonomous aerial attack drone is displayed before the opening of the China International Aviation & Aerospace Exhibition in Zhuhai, China, on Nov. 3, 2008.
Photo: Reuters
He said the autonomous aerial vehicles would be used to gather intelligence on a constant basis,and in the case of military conflict, could fill the skies over Taiwan to stage bombing and missile attacks.
Extensive references in the report to the Chinese threat to Taiwan are carried in separate Taipei Times coverage.
Three of the drones now under development, the Yilong, Sky Saber and Lijian, are to be configured to fire precision weapons, the report said.
"The acquisition and development of longer-range [drones] will increase China's ability to conduct long-range reconnaissance and strike operations," the report said. "China is working on a range of technologies to attempt to counter US and other countries' ballistic missile defense systems, including maneuverable re-entry vehicles; multiple, independently targetable re-entry vehicles; decoys, chaff, jamming and thermal shielding... The US and China acknowledge that the Chinese tested a hypersonic glide vehicle [last year]."
This last weapon can travel at 10 times the speed of sound and is designed to carry nuclear warheads, reports showed.
It added that China is increasing the lethality of its conventional missile force by fielding a new ballistic missile, the CSS-11 (DF-16) which possesses an estimated range of 800km to 1,000km.
"The CSS-11, coupled with the already deployed conventional variant of the CSS-5 (DF-21) medium-range ballistic missile will improve China's ability to strike not only Taiwan, but other regional targets," the report said.
It said that the Chinese military is an arm of the Chinese Communist Party (CCP) and its top priority is not to defend the nation, but to preserve the power of the party.
Comments will be moderated. Keep comments relevant to the article. Remarks containing abusive and obscene language, personal attacks of any kind or promotion will be removed and the user banned. Final decision will be at the discretion of the Taipei Times.