Chu trumpets fake 'consensus'
WATCHFUL NEIGHBOR? China said it would continue to protect the interests of the Taiwanese public, businesses, farmers and fishermen during a party-to-party summit
New Taipei City Mayor and Chinese Nationalist Party (KMT) Chairman Eric Chu (朱立倫) yesterday expressed hope that Taiwan would develop a greater role in the global community based on the so-called "1992 consensus" between Taiwan and China.
Speaking at the 10th Cross-Strait Economic, Trade and Culture Forum in Shanghai, Chu said that he expects Taiwan to play a bigger role if the nation takes part in the China-initiated Asian Infrastructure Investment Bank (AIIB), Beijing's "One Belt, One Road" trade initiative and the Regional Comprehensive Economic Partnership (RCEP) trade bloc.
Despite its smaller economy, land mass and population, Taiwan has strengths in innovation, management experience and research and development, allowing it to make substantial contributions to regional economic development through cooperation with China, Chu said.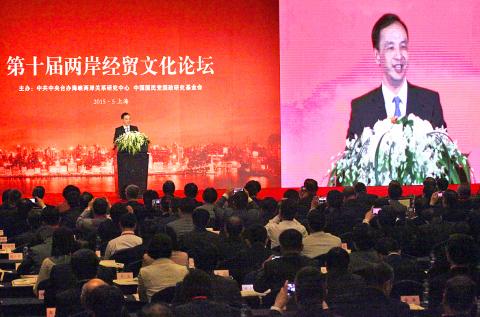 Chinese Nationalist Party (KMT) Chairman Eric Chu speaks at a KMT-Chinese Communist Party forum in Shanghai, China, yesterday.
Photo: AP
The "1992 consensus" refers to a supposed understanding between the KMT and the Chinese Communist Party (CCP) that both Taiwan and China acknowledge there is "one China," with each side having its own interpretation of what that means. In 2006, former KMT legislator Su Chi (蘇起) admitted that he made up the term "1992 consensus" in 2000, when he was head of the Mainland Affairs Council, before the KMT handed power to the Democratic Progressive Party.
National Committee of the Chinese People's Political Consultative Conference Chairman Yu Zhengsheng (俞正聲) said that Chu's ideas could be discussed further at the annual KMT-CCP forum, as part of efforts to seek Taiwan's participation in the AIIB, the "One Belt, One Road" initiative and the RCEP, and further possible approaches for cross-strait cooperation.
The discussions are aimed at increasing the competitiveness of "ethnic Chinese" and expanding their presence in the international market, Yu said.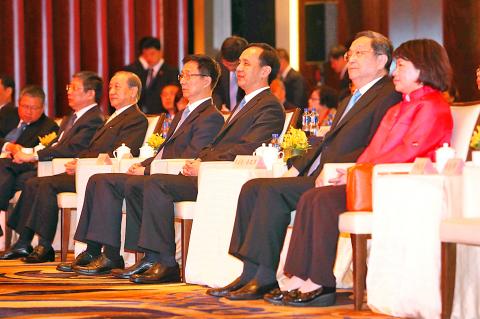 Chinese Nationalist Party (KMT) Chairman and New Taipei City Mayor Eric Chu, third right, takes part in the opening session of the Cross-Strait Economic, Trade and Culture Forum in Shanghai yesterday.
Photo: CNA
Yu also said that the annual forum should stick to China's stance regarding the "1992 consensus" and opposition to Taiwanese independence, which he described as a "mutual political foundation" for the development of cross-strait relations.
As China enters what has been called a "new normal" with lower economic growth, Beijing plans to help drive rational industrial positioning and introduce new measures for Taiwanese companies in China to address their problems with transformation and upgrading, Yu said.
China will also continue to protect the interests of the Taiwanese public, small and medium-size businesses, farmers and fishermen, allowing them to enjoy the benefits of enhanced cross-strait relations, he said.
Yu also urged the expansion of youth exchanges between Taiwan and China to encourage the wider involvement of young people in efforts to improve related policies.
Chu arrived in Shanghai on Saturday with a 100-member delegation to attend the annual KMT-CCP economic and cultural forum.
The highlight of Chu's three-day visit is expected to be his first meeting with Chinese President and CCP General Secretary Xi Jinping (習近平). The meeting is to take place in Beijing today.
Chu yesterday avoided giving a direct answer to reporters' questions about a peace pact between Taiwan and China.
Asked whether he would take advice provided by New Party Chairman Yok Mu-ming (郁慕明) and raise the issue of a cross-strait peace accord during a meeting with Xi, Chu said only that there are different opinions in Taiwan regarding the issue.
Some people prefer a more active pursuit of a peace pact and some are against it, but the KMT has its own objective and course of action, he said.
"We will hold our ground on what to do," Chu said.
Comments will be moderated. Keep comments relevant to the article. Remarks containing abusive and obscene language, personal attacks of any kind or promotion will be removed and the user banned. Final decision will be at the discretion of the Taipei Times.