Tsai rejects Ma's criticism, says he is out of touch
In response to President Ma Ying-jeou's (馬英九) request that she elaborate on her cross-strait agenda, Democratic Progressive Party (DPP) Chairperson Tsai Ing-wen (蔡英文) yesterday said that she has explained it well already and criticized Ma for not knowing about the public's real concerns.
"I explained clearly on April 15 that 'maintaining the status quo' refers to maintaining peace across the Taiwan Strait and maintaining stable developments in cross-strait relations," Tsai said at the DPP's headquarters in Taipei on the sidelines of the party's Central Executive Committee meeting.
"There is a newly released opinion poll showing that as much as 74 percent of the public agrees with such an idea — showing that what I have said is in accordance with public expectations," she said.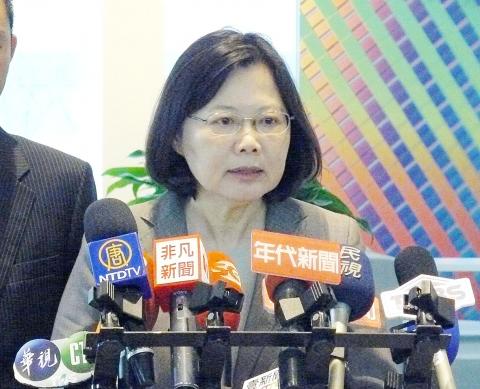 Democratic Progressive Party Chairperson Tsai Ing-wen yesterday talks to reporters in the Hsinchu Science Park during a visit to a visit to Taiwan Semiconductor Manufacturing Company chairman Morris Chang.
Photo: CNA
In a speech on cross-strait development yesterday, Ma said that Tsai, as the DPP's candidate for next year's presidential election, has a duty to clearly define what she means by the "status quo" and her plans to maintain it.
In response to Ma's comment that she is trying to avoid the "one China" issue, Tsai said that there was no need for Ma to repeat the same thing, because "that is not something that the public cares about," and that speaking about "one China" would not help to resolve the real problems that Taiwan faces.
"If what he says is 'useful,' there would not be so many people upset with his government," Tsai said.
Tsai said she met yesterday with Taiwan Semiconductor Manufacturing Co (TSMC) chairman Morris Chang (張忠謀) to discuss the future of Taiwan's industries, labor rights, environmental issues, the gap between poor and rich, and the differences between southern and northern Taiwan.
"I think these are the issues that the people are really concerned about," the DPP chairperson said.
"It is rather disappointing that, after being the president for seven years, Ma still does not know what the public really cares about. I do not understand why he had to go to the Mainland Affairs Council to say what he said," Tsai said.
"These are things that he has repeatedly said in the past. If they were useful and acceptable to the public, he would not need to repeat them, and he would not have lost the public's trust," she said.
Tsai said that she sympathizes with Ma, as he has to ask these questions on behalf of the Chinese Nationalist Party (KMT) presidential candidate before the party has selected one.
Comments will be moderated. Keep comments relevant to the article. Remarks containing abusive and obscene language, personal attacks of any kind or promotion will be removed and the user banned. Final decision will be at the discretion of the Taipei Times.