NEPAL QUAKE: Taiwanese aid teams leave for Nepal
Dozens of Taiwanese disaster relief and healthcare workers, representatives of charity groups and a medical team led by government officials yesterday left for Nepal, but Taiwan is still waiting for permits from Kathmandu to send search-and-rescue teams, authorities said.
A 37-member team from the Buddha's Light International Association and physicians and nurses from Kaohsiung Chang Gung Memorial Hospital left in the morning, taking 5 tonnes of relief supplies, including blankets, tents, dried foods and medical supplies.
The team is scheduled to stay in Nepal for five days, International Headquarters Search and Rescue head Lu Cheng-tsung (呂正宗) said.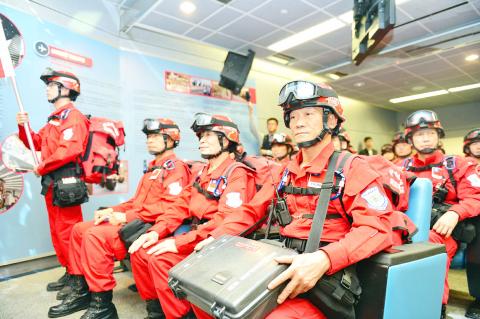 Members of a rescue team from the Buddha's Light International Association yesterday prepare to depart Taipei for Nepal.
Photo: Yao Kai-shiou Taipei Times
Six medical personnel from the government-sponsored Taiwan International Health Action led by a Ministry of Health and Welfare official and accompanied by two Ministry of Foreign Affairs officials familiar with the situation in Nepal left in the afternoon.
Representative to India James Tien (田中光), who has been in Kathmandu since the earthquake on Saturday, would assist the relief workers if needed, foreign ministry spokesperson Anna Kao (高安) said.
Kathmandu has not yet accepted Taiwan's offer to send official search-and-rescue teams.
Deputy Minister of Foreign Affairs Andrew Kao (高振群) on Monday said that Kathmandu has asked for search-and-rescue help only from neighbors such as China, India and Pakistan, and cited the great distance and the lack of direct flights and diplomatic relations for the handling of Taiwan's offer.
Early yesterday at a regular news conference, Ministry of National Defense spokesperson David Lo (羅紹和) said the ministry has had everything ready to dispatch C-130 aircraft from Pingtung County to Nepal.
However, anonymous sources at the defense ministry said it would be more efficient to deliver aid via commercial flights than military aircraft because it would take the C-130s 11 to 14 hours to reach Nepal as they would have to fly over open ocean instead of crossing China's airspace, the sources said.
The lack of diplomatic relations with most nations in the region would also create problems if they were to allow the aircraft through their airspace or grant them necessary refueling stops en route to Nepal, the sources added.
Comments will be moderated. Keep comments relevant to the article. Remarks containing abusive and obscene language, personal attacks of any kind or promotion will be removed and the user banned. Final decision will be at the discretion of the Taipei Times.