Farglory head rejects Dome criticism
'UNACCEPTABLE': The chairman said claims about the safety of the structure were not true and he denied illicit dealings with former Taipei mayor President Ma Ying-jeou
Farglory Group (遠雄集團) chairman Chao Teng-hsiung (趙藤雄) yesterday called ongoing criticism over the safety of the Taipei Dome project "an unacceptable joke" and urged the Taipei City Government to enter into discussions to end the controversy.
Chao, who shuns the media these days amid allegations of a bribery scandal, issued a statement after subsidiary Farglory Land Development Co (遠雄建設) came under attack over the project's safety and alleged secret dealings.
Chao ceded the chairmanship to his son last year, but remains head of the conglomerate, which also owns Farglory Life Insurance Co (遠雄人壽), Farglory Hotel Co (遠雄悅來飯店), the Farglory Free Trade Zone (遠雄自由貿易港區), Taiwan Solar Energy Corp (元晶太陽能) and Golden Biotechnology Corp (國鼎生物科技).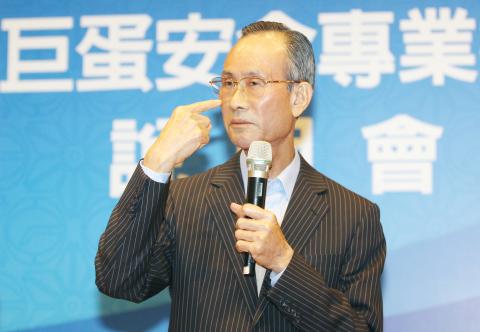 Farglory Group chairman Chao Teng-hsiung responds to questions about the Taipei Dome during a news conference in Taipei yesterday. Chao rejected claims that the dome is unsafe, comparing it favorably with similar structures around the world.
Photo: CNA
"The entire matter has become distorted by politics, something that is terrible and forever beyond my understanding," Chao said.
Since 2004, Farglory has recruited more than 1,000 architects, engineers and other construction experts from six nations to help design and build the Taipei Dome, a structure which could withstand the harshest of conditions, Chao said.
Chao said that suggestions that the Dome is unsafe or useless are "a joke," one which he could not accept.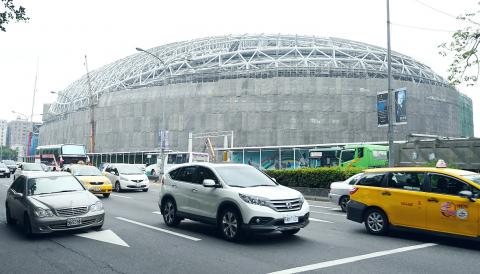 Taipei traffic passes the Taipei Dome construction site yesterday.
Photo: Chang Chia-ming, Taipei Times
Chao denied being involved in secret dealings with President Ma Ying-jeou (馬英九) during Ma's time as Taipei mayor to alter contract terms in the company's favor.
"I met with the then-mayor two or three times briefly as a social courtesy, a fact that all those who were present could verify," he said.
City councilors have questioned Ma's decision to allow Farglory to downsize the Dome and increase commercial space, a move that is at odds with the original design.
Chao said the Dome's floor space measures 149,066 ping (492,780m2) with a volume of 88,629 ping, compared with measurements of 165,195 ping and 96,000 ping respectively as first promised. Chao said that an independent safety inspection by a third party would help resolve any misunderstandings.
"Prior to that, the city government should refrain from criticizing the company and the construction staff," he said, adding that Farglory would take up the government's offer of meeting to discuss the project.
Comments will be moderated. Keep comments relevant to the article. Remarks containing abusive and obscene language, personal attacks of any kind or promotion will be removed and the user banned. Final decision will be at the discretion of the Taipei Times.