Lao family's links to China raise security concerns
Legislators from across the political spectrum voiced concern over possible breaches of national security after Lao Tse-kang (勞則康), the father of disgraced 601st Air Cavalry Brigade Lieutenant Colonel Lao Nai-cheng (勞乃成), faced a legislative hearing yesterday.
Lawmakers tied Lao Tse-kang, a retired top-ranking officer who was deputy chief of staff at Army Command Headquarters, to China during the hearing where he apologized for his son's role in allowing a group of civilians onto an air force base where they took photographs sitting in an Apache AH-64E helicopter and posted them on Facebook, an incident that has tarnished the image of the military.
At a news conference after the hearing, the senior Lao said his son would cooperate with the investigation and face any legal consequences, while asking that he be given a second chance.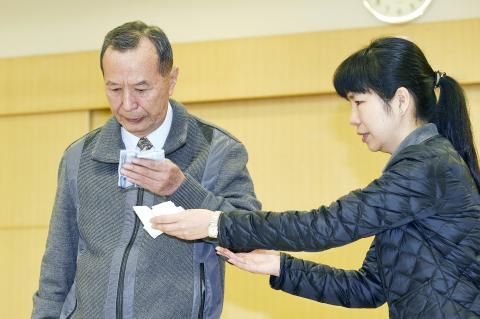 Lao Tse-kang, left, the father of Lieutenant Colonel Lao Nai-cheng, is handed a tissue by his daughter yesterday at a press conference in Taipei, during which he apologized for his son's involvement in the recent Apache helicopter security scandal.
Photo: George Tsorng, Taipei Times
However, legislators were more concerned over Lao Tse-kang's purported links with China, asking questions regarding possible leaks of the helicopter's hardware, software and the weapons systems.
Chinese Nationalist Party (KMT) Legislator Lo Shu-lei (羅淑蕾) said she had information confirming reports by some military experts and netizens that Lao Tse-kang had intimate Chinese business ties after moving across the Strait and operating a petrochemical company there for about two decades.
"The senior Lao retired from the army in 1987 and moved to China in 1988, setting up a petrochemical company in Hangzhou City, Zhe-jiang Province," Lo said. "However, the law says any retired military officers with previous access to materials concerning national security must wait at least two years before visiting China."
"I find it incredulous that Lao [Tse-kang] has close business ties in China, yet his son was in charge of the most advanced weapons system in Taiwan," she said.
"We should fully investigate this matter," Lo added.
The petrochemical industry is highly regulated by the Chinese government, and experts and netizens have posted news reports that indicate Lao Tse-kang attended industry and political meetings in China, suggesting he has cultivated relationships in Chinese business and political circles, Lo said.
Democratic Progressive Party (DPP) Legislator Chen Ming-wen (陳明文) also questioned military officials at the legislative session.
"We know that Lao [Tse-kang] went to China and started a petrochemical business there after retiring," Chen said. "Why did the military not make background checks on his son? Do you not know he is handling the most advanced US attack helicopter, which has many highly classified weapons systems?"
"With his father's good relationships in China, many people believe there is a chance that Lao Nai-cheng leaked classified military information to China," Chen said. "His family's connections in China cannot be discounted."
"I see this is a very dangerous situation," he added. "I see that the military has been too lax and negligent in protecting national security."
KMT Legislator Ma Wen-chun (馬文君) said that when Lao Nai-cheng took the Apache's interactive helmet off the base to wear at a party, there was a risk that signals it emitted could be picked up over a smartphone app and passed on to Beijing.
China is famous for stealing technology and building copies through reverse engineering, Ma said.
Comments will be moderated. Keep comments relevant to the article. Remarks containing abusive and obscene language, personal attacks of any kind or promotion will be removed and the user banned. Final decision will be at the discretion of the Taipei Times.