Two more arrested in Chinese spy ring
SPIES LIKE US: Two air force academy officials were allegedly part of the network of Taiwanese military officials recruited by a Chinese spy currently on trial in Taipei
Investigation bureau agents yesterday raided the homes of two — one active and one retired — air force pilots allegedly recruited by a Chinese intelligence officer in a case described as the largest Chinese spy ring to have operated in Taiwan in recent years.
A preliminary investigation showed that a retired deputy commander of the Republic of China's Air Force Academy's flight training section surnamed Ke (葛) had been offered free trips to Southeast Asia by Zhen Xiaojiang (鎮小江), a Chinese intelligence officer, in exchange for confidential military information, the Taipei District Prosecutors' Office said.
The trips took place between 2009 and 2013 before Ke's retirement.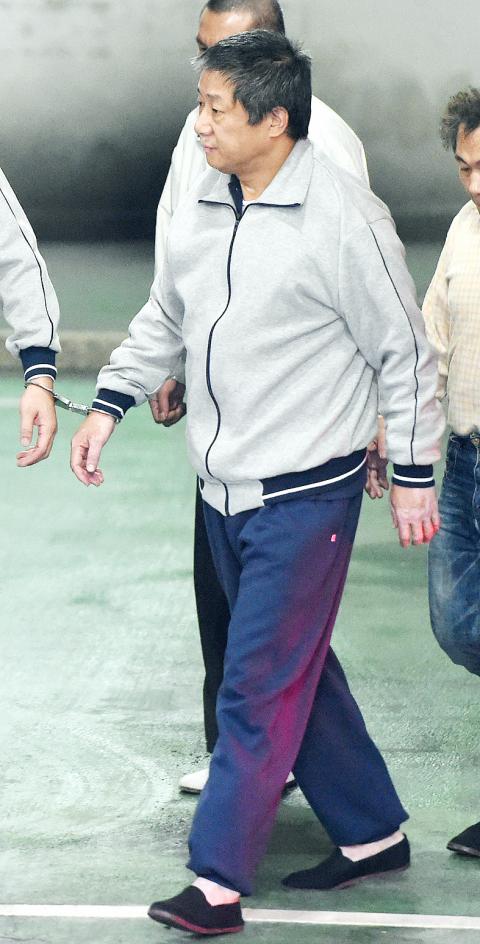 Chinese intelligence officer Zhen Xiaojiang, center, walks handcuffed in a police compound in Taipei on Jan. 16.
Photo: Liao Chen-huei, Taipei Times
"During that period, Ke provided confidential air force intelligence information to other Chinese intelligence officers introduced by Zhen at places outside of Taiwan and China," prosecutors said.
Following his retirement, Ke persuaded his former colleague, a lieutenant colonel surnamed Lou (樓) who is the deputy director of the flight training section, to join the spy network set up by Zhen in Taiwan, they said.
Ke and Lou were brought in for questioning yesterday on suspicion of violating the National Security Act (國家安全法). Three witnesses were also present.
Zhen, a former People's Liberation Army officer, was arrested in Taiwan in September last year.
He is accused of offering several retired Taiwanese military officers trips to Vietnam, Thailand, South Korea and Japan.
He also allegedly arranged many dinner meetings between the military officers and Chinese intelligence personnel outside of Taiwan, during which the latter obtained information on the Mirage 2000 aircraft, the ultra-high-frequency radar installation on Leshan (樂山) in Hsinchu County and on Taiwan's advanced military technology and newly procured weaponry.
Zhen was indicted in January, along with five Taiwanese military officers — including former army major general Hsu Nai-chuan (許乃權), air force colonel Chou Chih-li (周自立), air force pilot Sung Chia-lu (宋嘉祿) and air force official Yang Jung-hua (楊榮華), — and Lee Huan-yu (李寰宇), a Kaohsiung nightclub operator.
The case is being tried at the Taipei District Court.
Prosecutors said Zhen is the first Chinese spy to be arrested in Taiwan in recent years, adding that his espionage ring is believed to include more than 10 Taiwanese military officers.
Ministry of National Defense spokesman Major General David Lo (羅紹和) told an impromptu press conference yesterday that the ministry would fully cooperate with prosecutors in the investigation.
He refused to comment on the probe, citing confidentiality.
"Given that the case revolving around Zhen originated from a tipoff received by the ministry's public security division, it indicates the effectiveness of the army's national security endeavors," Lo said, adding that the ministry would step up its efforts to instill patriotism in soldiers.
Comments will be moderated. Keep comments relevant to the article. Remarks containing abusive and obscene language, personal attacks of any kind or promotion will be removed and the user banned. Final decision will be at the discretion of the Taipei Times.