Officers face probe after Apache breach
PHOTO FUROR: Images emerged on the Internet of an actress and her husband posing in the cockpit of a helicopter which contains classified weapons systems
Five officers in an elite special forces unit face disciplinary measures and will be investigated in a judiciary probe after a media storm erupted over television personality Janet Lee (李蒨蓉) showing off pictures of her and her husband sitting in the cockpit of an Apache helicopter at a restricted military base in northern Taiwan.
Lee uploaded several photographs of her posing with the US-made AH-64 attack helicopter on Facebook, leading to a furor because the aircraft is off-limits to visitors, as it contains classified weapons technology.
Images of the cockpit's instrument panel were also published.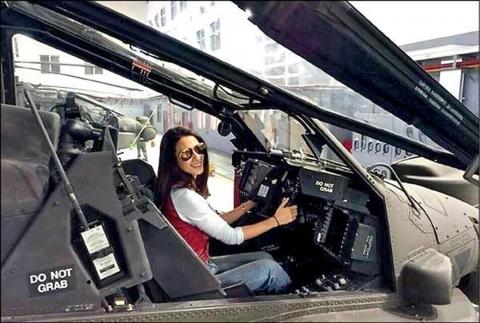 Celebrity Janet Lee poses for photographs inside an army AH-64E Apache helicopter at a restricted military base in Taoyuan on Sunday.
Screen grab from Janet Lee's Facebook account
Netizens called Lee's actions foolish and arrogant, and accused her of flaunting her fame to gain access for her and family and friends to the hangar that houses the helicopter.
The off-limits hangar is at the 601 Air Cavalry Brigade base in Longtan District (龍潭), Taoyuan, and is controlled by the Army Special Forces Command's Airborne Headquarters.
When the photographs came to light on Wednesday, the military base for the detachment of the Apache helicopters reprimanded Lieutenant Colonel Lao Nai-cheng (勞乃成), who conducted the tour for Lee and her entourage on Sunday.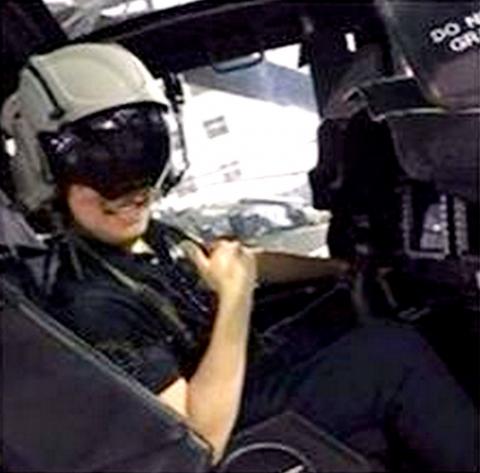 Celebrity Janet Lee's husband poses inside an army AH-64E Apache helicopter at a restricted military base in Taoyuan on Sunday.
Screen grab from Janet Lee's Facebook account
Lao, 40, is a pilot-instructor for the aircraft and head information security officer at the base.
He was sent to the US for 18 months of training on Apache helicopters and was seen as a rising star in the airborne unit.
After mounting pressure and public anger in response to the photographs, top brass from the Army Command Headquarters held a news conference yesterday, announcing further action against Lao and four other officers at the base who allegedly played a part in granting special access and privilege to Lee and others, including allowing them to sit inside the helicopter and letting Lee's husband don a pilot's interactive helmet, which is valued at NT$2 million (US$63,891).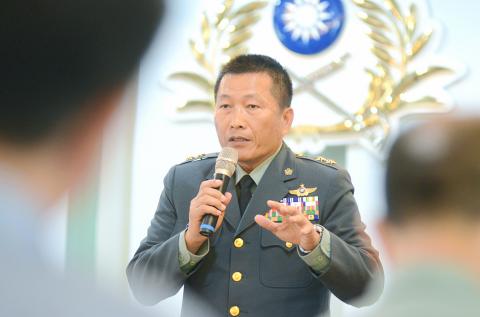 Lieutenant General Chen Chien-tsai, commander of the Republic of China Army Aviation Special Forces Command, speaks in Taoyuan yesterday.
Photo: CNA
Originally given only three reprimands, Lao was handed a major demerit and removed from his post, and he now also faces investigation by the Taoyuan District Prosecutors' Office.
An army spokesperson said yesterday that five officers were found to have breached the National Security Information Protection Act (國家機密保護法) and the Punishment Act of the Armed Forces (陸海空軍懲罰法).
In addition, prosecutors will investigate whether the Vital Area Regulations (要塞堡壘地帶法) were breached in the incident, the spokesperson said.
Comments will be moderated. Keep comments relevant to the article. Remarks containing abusive and obscene language, personal attacks of any kind or promotion will be removed and the user banned. Final decision will be at the discretion of the Taipei Times.