Phase-three water rationing delayed
A series of stricter water rationing measures that were scheduled to be implemented this week in Taoyuan and parts of New Taipei City have been pushed back one week, Premier Mao Chi-kuo (毛治國) said yesterday.
The measures are set to go into effect on Wednesday next week instead of tomorrow, to allow for the four-day Tomb Sweeping Day weekend that begins on Friday, Mao said.
Tomb Sweeping Day is a major annual event in ethnic Chinese communities, in which families tend to the graves of their ancestors.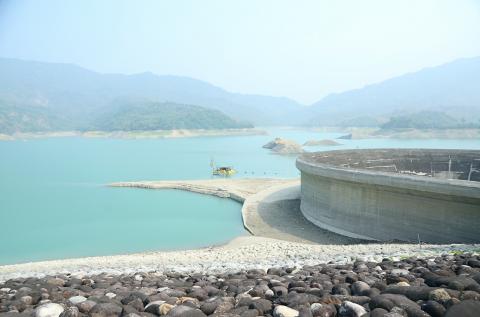 Water levels are low at the Nanhua Reservoir in Tainan yesterday. The reservoir's capacity has fallen to 38 percent.
Photo: Wu Chun-feng, Taipei Times
The postponement was implemented so the public would not be inconvenienced during the holiday, Mao said.
Rainfall over the past week helped raise the water level of Shihmen Reservoir (石門水庫) in Taoyuan, allowing people living in the areas served by the reservoir one more week of normal water supply, he said.
Under the phase-three rationing measures that are to take effect next week, water supplies to Linkou (林口), Banciao (板橋) and Sinjhuang (新莊) districts of New Taipei City as well as Taoyuan, will be restricted to five days a week on a rotational basis, affecting more than 1.01 million households and industrial users.
Water supplies in other areas remain tight amid a water shortage that is the worst in Taiwan in more than 60 years, Mao said.
Everyone should remember to conserve water, he said.
Comments will be moderated. Keep comments relevant to the article. Remarks containing abusive and obscene language, personal attacks of any kind or promotion will be removed and the user banned. Final decision will be at the discretion of the Taipei Times.