Siew to voice Taiwan's interest in AIIB
CHINA-LED BANK: The former vice president has been instructed by President Ma to declare Taiwan's interest in joining the regional institution when he meets Xi Jinping
Former vice president Vincent Siew (蕭萬長) yesterday said that he would express Taiwan's interest in taking part in the emerging Asia Infrastructure Investment Bank (AIIB), the China-led regional financial institution, when he meets with Chinese President Xi Jinping (習近平) today, according to a report.
Siew, head of Taiwan's delegation to this year's Boao Forum for Asia in China's Hainan Province, told reporters he is to meet Xi at 9:20am today, the Central News Agency (CNA) reported.
Siew was quoted by the CNA as saying that Taiwan should be part of the AIIB and that he would "make a case for it whenever I have the chance to speak to China's leaders."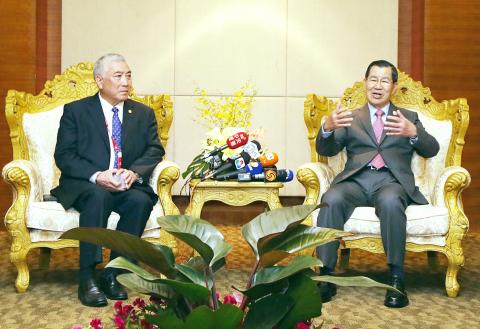 Former vice president Vincent Siew, right, speaks to the press at Boao Forum For Asia on China's Hainan Island yesterday.
Photo: CNA
President Ma Ying-jeou (馬英九) told Siew to declare Taiwan's interest in the AIIB during a meeting on Tuesday, according to an interview with Ma by the Want Want China Times Group (旺旺中時集團) on Thursday.
Ma listed three reasons Taiwan should join the AIIB, but said that some issues might need to be discussed first, including in what capacity Taiwan would be admitted to the body, which requires statehood as a condition of membership.
Among the reasons Ma listed were that Taiwan could serve as a peacemaker and humanitarian aid provider in the international community, that taking part in the AIIB would be helpful to Taiwan's bids to be part of the Trans-Pacific Partnership and the Regional Comprehensive Economic Partnership, and that working with China in its initiatives, supported by many other countries, would benefit cross-strait relations.
China has put making plans for the implementation of its "One Belt, One Road" policy, which it envisions, together with the AIIB, connecting China with countries in Central Asia, Southeast Asia, Africa and Europe through construction of infrastructure projects, on top of the agenda of the four-day forum, which opened on Thursday.
With South Korea and Turkey announcing their bids to join the AIIB yesterday, the number of prospective members reached 37 before the Tuesday deadline set by China for countries to seek founding memberships.
China's Association for Relations Across the Taiwan Straits Deputy Chairman Zheng Lizhong (鄭立中) told a cross-strait meeting in Taipei last month that the "One Belt, One Road" policy would open up a good channel for Taiwan's investment, but the government said last week that Taiwan has not been invited to join the AIIB.
When Premier Mao Chi-kuo (毛治國) was asked by lawmakers about the government's willingness to apply to join the AIIB on Friday last week, he said the government would carry out an assessment when it was invited to do so.
Minister of Foreign Affairs David Lin (林永樂) yesterday said that Taiwan would seek to join the AIIB on the condition that it receives dignified treatment.
"We are expressing our interests, but we will not accept any degrading arrangements in terms of the way we would be allowed to participate, in what capacity, in how Taiwan is treated and our designation. We'll deal with these issues through negotiation," Lin said.
Comments will be moderated. Keep comments relevant to the article. Remarks containing abusive and obscene language, personal attacks of any kind or promotion will be removed and the user banned. Final decision will be at the discretion of the Taipei Times.