Ministry to review Fukushima food ban
RADIOACTIVE? The admission comes amid mounting pressure from Japan and a discovery of foodstuffs that have entered the country under counterfeit origin labels
Minister of Health and Welfare Chiang Been-huang (蔣丙煌) yesterday acknowledged that the ministry is mulling lifting its ban on imports of food products from five Japanese prefectures near the Fukushima Dai-ichi nuclear power plant, following discoveries that more than 250 food products manufactured in the five areas have illegally entered the country with false origin labeling.
Chiang made the remarks when pressed by Democratic Progressive Party (DPP) Legislator Lin Shu-fen (林淑芬) at a meeting of the legislature's Social Welfare and Environmental Hygiene Committee yesterday morning to confirm reports that the government is deliberating relaxing the ban due to mounting pressure from the Japanese government.
"It is true that Japan has made such a request, actually more than once over the years since the 2011 Fukushima Dai-ichi meltdown. It stressed that its nation's [food] products were safe, and to my knowledge, many other countries have agreed to similar requests," Chiang said.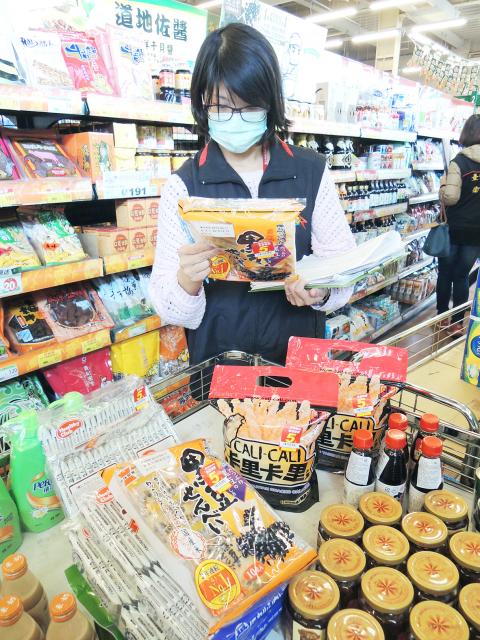 A Taichung Health Bureau employee yesterday inspects products at a Matsusei (Sungching) supermarket to check whether there are any products imported from Japan's nuclear disaster area.
Photo: Tsai Shu-yuan, Taipei Times
Chiang said that given Taiwan's ban on food products from the five prefectures was relatively stringent and that Japan has proposed the idea on multiple occasions, "the ministry is obligated by international custom to deliberate on the proposal's feasibility."
The government imposed the ban on food items from Fukushima, Ibaraki, Tochigi, Gunma and Chiba prefectures in March 2011.
It has also subjected nine categories of food products from other parts of Japan to batch-by-batch border inspections — fresh vegetables and fruits; frozen vegetables and fruits; fresh aquatic products; frozen aquatic products; baby formula; dairy products; seaweed; tea leaves; and drinking water.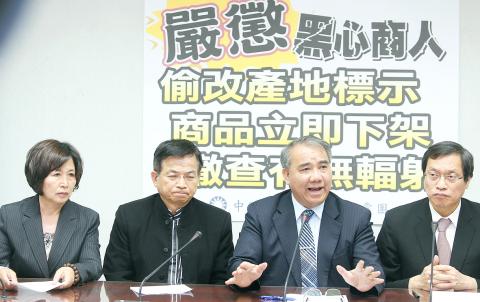 Members of the Chinese Nationalist Party's (KMT) causus hold a press conference at the Legislative Yuan in Taipei yesterday to demand that the government punish businesspeople who import products from Japan's nuclear disaster area.
Photo: CNA
The minister's statements came at a particularly sensitive time for the Food and Drug Administration (FDA), which has been accused of deliberately delaying the publication of its findings that a dozen Taiwanese companies had been importing hundreds of food products from the five prefectures with fake origin labels.
A press release issued by the New Taipei City Government's Public Health Department on Tuesday evening said that the FDA recently found that two soy sauce products imported by Taipei-based Sheng Yu Trading Co (盛裕貿易) on Feb. 4 were labeled as being produced in Tokyo, but were actually manufactured in Chiba and Gunma.
However, the administration did not take any action until Thursday last week, when it accompanied health officials in raiding the factories of implicated companies. The FDA released the findings late on Tuesday.
As of 12pm yesterday, a total of 294 food products imported from 12 firms have been ordered off the shelves over their allegedly adulterated place of origin labels, including Kirin's (午後紅茶) Afternoon Tea Straight Tea, Milk Tea and Lemon Tea beverages, Nissin Food Products Co's cup noodles and Japanese confectioner Morinaga's six cookie and sweet products.
The falsified Chinese labels, which were reportedly simply attached on top of the original Japanese-language ones, claimed that they were manufactured in Tokyo, Osaka, Kobe, Okayama or other regions far from the Fukushima Dai-ichi nuclear plant.
However, 108 of the products were produced in Gunma, 74 were from Ibaraki, 48 from Chiba, 45 from Tochigi and 19 from Fukushima. The FDA has sent all the potentially questionable items to the Atomic Energy Council for testing, of which 193 were found to contain no radioactive residue as of yesterday.
During the committee meeting, Lin said she was unsatisfied with Chiang's comments, adding that Taiwan's ban is far from strict, since China has not only banned all food imported from 10 high-risk Japanese prefectures, but also demanded a radiation detection report and a government-issued place of origin for food items from other areas of the country.
"Taiwan only imposed a food import ban on five prefectures and the ministry has used every excuse it could think up to procrastinate in implementing a draft regulation that requires importers of the above nine types of products to provide a country of origin certificate and a radiation assessment report issued by the Japanese government," Lin said.
Lin said that nearly five months had passed since the FDA started seeking public opinion over the proposal in late October last year, a process that usually takes just two months.
FDA Director-General Chiang Yu-mei (姜郁美) pledged to publish the draft regulation within two weeks, adding that the new rule is expected to take effect in late June at the latest after both sides finalize the format of the required official documentation.
Meanwhile, the Chinese Nationalist Party (KMT) caucus called for immediate removal of potentially radioactive Japanese food products from the shelves, with one lawmaker proposing a boycott of all Japanese foodstuffs.
KMT Legislator Su Ching-chuan (蘇清泉), at a news conference held by the caucus that Chiang Yu-mei attended, proposed condemning unscrupulous companies and the Japanese government, demanded a pre-emptive measure of pulling all Japanese food products off shelves and that all Taiwanese to boycott Japanese food products.
KMT Legislator Wu Yu-jen (吳育仁) asked why Japan had failed to provide official certification on the place of origin for food exported to Taiwan, when it apparently had been doing so to other countries, including China.
Additional reporting by Alison Hsiao
Comments will be moderated. Keep comments relevant to the article. Remarks containing abusive and obscene language, personal attacks of any kind or promotion will be removed and the user banned. Final decision will be at the discretion of the Taipei Times.