Ex-US official out of order: DPP
INTERFERENCE? Former AIT managing director Barbara Schrage drew criticism for remarks about Democratic Progressive Party Chairperson Tsai Ing-wen's China policy
The Democratic Progressive Party (DPP) yesterday reminded current and former US officials to carefully avoid violating the US principle of promoting democracy diplomatically when commenting on Taiwan's elections, while reassuring the US that the DPP would do its best to maintain peace and stability in cross-strait relations.
DPP Secretary-General Joseph Wu (吳釗燮) issued a statement in response to remarks made by former American Institute in Taiwan (AIT) managing director Barbara Schrage in Washington on Friday about DPP Chairperson and prospective presidential candidate Tsai Ing-wen's (蔡英文) cross-strait policy.
Schrage told a conference on US-Taiwan relations hosted by the Heritage Foundation that Tsai was unable to clarify Washington's doubts about her China policy when she visited the US in September 2011 as the DPP's candidate for the 2012 presidential election, the Central News Agency (CNA) reported.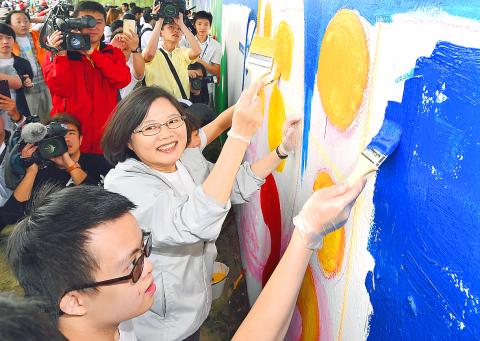 Democratic Progressive Party Chairperson Tsai Ing-wen, second left, paints a mural in Taipei yesterday at an event to raise awareness of Down syndrome.
Photo: Liao Chen-huei, Taipei Times
"What the administration wanted to hear was what was her specific plan for dealing with the cross-strait issue, and frankly she was very disappointing in that area," CNA quoted Schrage as saying.
Schrage retired in January last year from the position she had held since 2006.
If Tsai cannot present something new this time, she will not be able to pass the test easily, Schrage said, according to the CNA report.
Tsai has recently confirmed an upcoming trip to Washington.
Schrage said that the DPP does not necessarily have to accept the so-called "1992 consensus," but it should find ways to narrow its differences with Beijing.
The "1992 consensus" refers to a tacit understanding between the Chinese Nationalist Party (KMT) and the Chinese government that both sides of the Taiwan Strait acknowledge that there is "one China," with each side having its own interpretation of what "China" is.
The DPP does not accept the "1992 consensus," viewing it as what it describes as the KMT's wishful thinking, since Beijing has never officially accepted the existence of the "Republic of China" in the KMT's version of "one China."
"The important thing, I think, is that the DPP demonstrates that it understands the seriousness of the issue, that it cannot simply duck the issue, and that it tries to find ways to come up with a formula that will meet — to some extent — the concerns of China, the concerns of the United States and the concerns of the people of Taiwan, who clearly favor stability," CNA quoted Schrage as saying.
Tsai needs to let people know in advance how she will deal with cross-strait relations if elected, Schrage added.
Schrage's remarks fed widespread media coverage yesterday in Taiwan and caused the DPP to contact the US to ask for clarification.
The US told the party that Schrage is not authorized by the US government to make such comments, so her remarks reflected her personal views, Wu said.
The DPP hopes that what Schrage has said "would not be wrongfully interpreted in any way to influence democratic elections in Taiwan," Wu said.
In an apparent bid to dismiss some media reports that Schrage was perceived as conveying a message from US government to Tsai, Wu yesterday said the DPP has various formal channels of communication with the US through which both sides exchange views and discuss issues without hindrance.
"It is absolutely unnecessary that the US send messages [to the DPP] through such a channel that is not at all authoritative," Wu said.
Remarks by retired US officials are prone to misinterpretation and could mislead the public to the degree at which they might intervene in elections in Taiwan, Wu said, adding that this goes against the fundamental values that the US has embraced in promoting democracy abroad.
"We believe that this is not what they want; and therefore, we would like to once again remind them to be careful [in their comments]," Wu said.
Earlier yesterday, Tsai was asked by reporters to respond to Schrage's comments.
"The DPP's cross-strait policy is pretty clear: Cross-strait relations must remain peaceful and stable," Tsai said.
"We will do our best to maintain this status quo," she added.
"Most importantly, we will maintain good communications with all parties concerned to avoid miscalculation or misunderstanding about the way we deal with cross-strait relations, and the process will lay a basis for mutual trust," Tsai said.
Tsai did not make further comment on the "1992 consensus" yesterday, saying that the DPP's stance on the issue has been clearly expressed on many occasions before.
AIT spokesperson Mark Zimmer told the Taipei Times that Schrage does not represent the US government now, since she has retired.
Asked if the US government has taken note of the DPP's concerns over possible intervention from retired US officials in Taiwan's elections, Zimmer said that the US government does not tell people what they can and cannot say.
"But it's important to note that they are retired officials. They are no longer associated with the government and they speak for themselves," Zimmer said.
Comments will be moderated. Keep comments relevant to the article. Remarks containing abusive and obscene language, personal attacks of any kind or promotion will be removed and the user banned. Final decision will be at the discretion of the Taipei Times.