Pro-unification advocates threaten to sue police
CONCENTRIC PATRIOTISM: Quarrels between association members and Taiwanese independence supporters erupted outside Taipei 101 yesterday, leading to arrests
One day after their release from police custody, members of the pro-unification Concentric Patriotism Association yesterday threatened to sue Taipei's Xinyi District (信義) Police Chief Wu Ching-tien (吳敬田) and other officers, saying the officials violated personal freedom and freedom of speech rights protected by the Constitution.
Outside the Taipei District Prosecutors' Office yesterday, a group headed by association founding member Zhang Xiuye (張秀葉) accused police officers of making wrongful arrests, with Taipei Mayor Ko Wen-je's (柯文哲) name listed on their potential suit.
Association members were taken into police custody on Friday, the day Wu took office.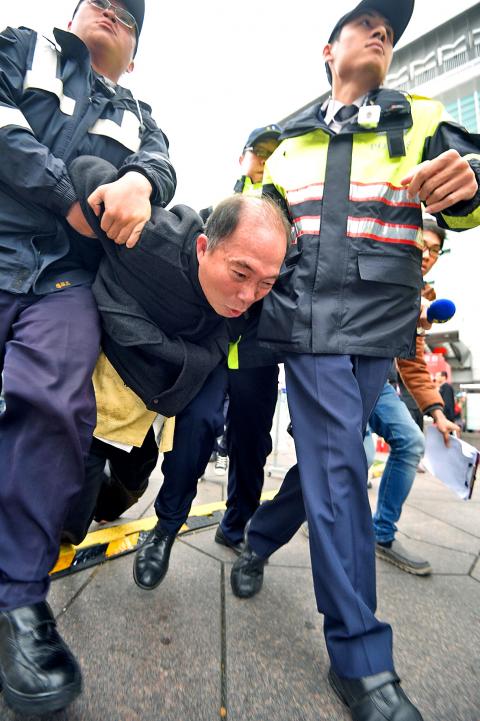 A pro-unification activist is taken away by Xinyi District police after allegedly insulting police as they were maintaining order in the area in front of Taipei 101 yesterday.
Photo: Wang Min-wei, Taipei Times
Wu recently transferred from serving as Shilin District (士林) precinct chief after former Xinyi precinct chief Lee Te-wei (李德威) applied for early retirement in January.
Lee's move came in the wake of Ko's public admonition of him over alleged repeated attacks on Falun Gong practitioners by members of the Concentric Patriotism Association.
The mayor said such attacks should never happen again.
Wu pledged to crack down on repeated disturbances involving association members at Taipei 101, where Falun Gong practitioners often gather to publicize what they describe as atrocities committed against their colleagues by the Chinese Communist Party.
On Friday, police officers detained two members surnamed Kao (高) and Yu (遇) outside Taipei 101. The detainees allegedly verbally abused officers, who said they were stopping Kao from making a public disturbance.
Police officers added that the two suspects could face charges of violating the Social Order Maintenance Act (社會秩序維護法) and obstruction of official business respectively.
Zhang reportedly insulted officers who were arresting Yu, and allegedly elbowed an officer before she feigned fainting, police officials said, adding that she could also be charged with obstruction of official business.
Zhang and Yu were released on NT$30,000 bail after being questioned at the Taipei District Prosecutors' Office, while Kao was turned over to the Taipei District Court for summary processing, police officials said.
Later yesterday, quarrels between association members and pro-independence supporters erupted outside Taipei 101 again, with 41 police officers dispatched; officers detained one member of each side they said.
An association member was detained after allegedly referring to officers as "rapists" and could face a charge of obstructing official business, police officials said.
Earlier on Friday, Zhang led a group of four to protest against what they described as the government's unfair treatment of Mainlander victims of the 228 Incident outside Taipei's 228 Memorial Museum.
The group reportedly painted the museum's front door red.
The four were detained and charged with violating the social order act as well as the Waste Disposal Act (廢棄物清理法), police officials said.
The four wheeled a rickshaw covered with incendiary banners, reading: "the 228 Incident was not a righteous uprising," "228 Incident [victims] were murderers and rapists," and "no Mainlander victims have received any compensation," a museum staffer surnamed Chu (朱) said.
The 228 Incident refers to an uprising against the then-Chinese Nationalist Party (KMT) administration, which led to the slayings of thousands of civilians and nearly four decades of martial law in Taiwan.
"Only mainlanders are legitimate," and "No mainlander is compensated for the 228 Incident," they said later when taken into police custody.
"On what grounds was Ko Wen-je's [grand]father compensated and commemorated?" a detained member surnamed Lee (李) asked. "He [Ko's grandfather] was just like any other 228 Incident victim."
The four said they resented what they described as the government's delay in making a full apology to Chinese victims while proffering generous compensation to Taiwanese victims.
The detained members said that they launched their protest because they were angered by Ko's emotional speech at the government's memorial ceremony last week.
They held no murderous intent despite having painted a Chinese character for "kill" in red on the museum door, police officials said.
Officers told the protesters to express their opinions in a peaceful way and pledged to prevent violence and enforce the law strictly.
Comments will be moderated. Keep comments relevant to the article. Remarks containing abusive and obscene language, personal attacks of any kind or promotion will be removed and the user banned. Final decision will be at the discretion of the Taipei Times.