KMT lawmakers urge Ma to put party unity first
PLAY BALL: Ma Ying-jeou, Wang Jin-pyng and Eric Chu attended a KMT Policy Committee meeting, where Chu told attendees that it takes teamwork to succeed
Chinese Nationalist Party (KMT) legislators yesterday urged President Ma Ying-jeou (馬英九) to drop his grievances against Legislative Speaker Wang Jin-pyng (王金平) for the sake of party unity ahead of next year's presidential election.
The plea was made during a meeting of the KMT's Policy Committee, and came amid internecine strife after KMT Chairman and New Taipei City Mayor Eric Chu (朱立倫) said on Wednesday last week that the party would not pursue further legal action against Wang over his party membership.
Relations came to a head between Ma and Wang when the KMT's Central Evaluation and Discipline Committee revoked Wang's membership on Sept. 11, 2013, after he was alleged to have interfered in a judicial case involving an Democratic Progressive Party lawmaker.
Legislative Speaker Wang Jin-pyng, left, and President Ma Ying-jeou are all smiles yesterday as they greet each other at Chinese Nationalist Party's (KMT) Policy Committee meeting in Taipei.
Photo: Lo Pei-der, Taipei Times
Wang took the party to court in a bid to retain his membership and thereby his legislator-at-large seat and won in both the Taipei District Court and the Taiwan High Court.
Ma, who had pushed for Wang's ouster in September 2013, said that he was personally "disappointed and could not condone" Chu's decision, and did not make his annual appearance at the Pingsi Sky Lantern Festival in New Taipei City.
However, the three men at the center of the discord appeared cordial to each other yesterday. Chu greeted Ma as he arrived for the meeting, while the president took the initiative to shake hands with Wang, a move that drew applause from KMT legislators.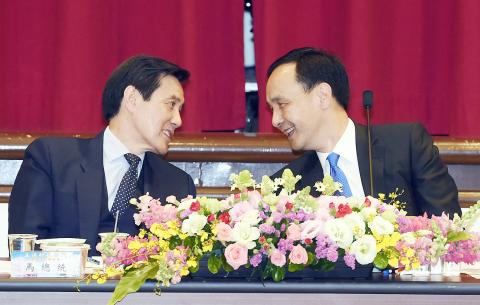 President Ma Ying-jeou, left, and Chinese Nationalist Party (KMT) Chairman and New Taipei City Mayor Eric Chu speak during a meeting of the KMT's Policy Committee in Taipei yesterday.
Photo: Lo Pei-der, Taipei Times
"We are happy to be gathered here today and hope that we can all work together on party administration as well as legislative matters to ensure passage of legislation that will benefit the nation and the public," Chu said.
"The party stands with the public if [the legislation] is beneficial," he added.
The KMT is a union of ideals and moral righteousness; we must make the public the focus of our thoughts and seek to bravely surmount difficulties, Chu said.
He thanked the KMT lawmakers for their efforts to help pass the budgets and other items during the sixth legislative session of the eighth legislative term.
There are many important issues that will be closely watched in the next legislative session, including constitutional reform, Chu said, adding that the KMT must be responsible in proposing amendments to the Constitution and working together with the Democratic Progressive Party (DPP) on the matter.
"We are one big family. There are bound to be disagreements and different ideas among family members, but we must respect and communicate with each other, seeking to arrive on a consensus for the betterment of the public," Chu said.
His call to pull together as a family was echoed by others.
KMT Legislator Lo Ming-tsai (羅明財) said the he hoped that "the family" remained at peace and that the "children wished the best of the matters of the adults."
Lo's statement drew more applause — and smiles from Ma, Chu and Wang, with Ma making notes.
KMT Legislator Wang Hui-mei (王惠美) said it was great to see everyone together despite media reports of discord, adding that she hoped Chu could expedite the reversal of the party's lawsuit against Wang.
If parents are always at odds with each other, the is no peace in a family, leading family members to stray from the path or run away, KMT Legislator Lo Shu-lei (羅淑蕾) said.
"Your concerns are not ours," she told Ma.
Lo said she did not care about the Wang case and was more concerned about whether Ma could focus on issues that would actually benefit the nation and its citizens.
Ma told the meeting that he had "heard the opinions" of his KMT colleagues and that he would do his best in all related matters so the KMT could win more support.
"I have always supported inter-party solidarity and am a firm believer in reforming the KMT," Ma said.
His adherence to "reform, solidarity, growth and being in power" were key to the KMT making a comeback in 2008, he said, adding that he would continue down that path.
Chu closed the meeting with a baseball metaphor, saying that while each player had his or her own strengths, it took teamwork to be successful.
Comments will be moderated. Keep comments relevant to the article. Remarks containing abusive and obscene language, personal attacks of any kind or promotion will be removed and the user banned. Final decision will be at the discretion of the Taipei Times.