Tsai Ing-wen makes bid official
PRIMARY PUSH: Taipei Veterans' General Hospital physician Kuo Cheng-deng sought support in raising the NT$5 million registration fee for his last-minute primary bid
Democratic Progressive Party (DPP) Chairperson Tsai Ing-wen (蔡英文) yesterday officially signed up for the party's primary for next year's presidential election, vowing to defend the nation and look after the public.
Accompanied by Thinking Taiwan Foundation chief executive director Angela Chang (張振亞), Tsai arrived at DPP headquarters in Taipei yesterday morning to register for the party's primary election.
Tsai filled out the forms and handed over NT$5 million (US$158,856) — a NT$4 million primary registration fee and a NT$1 million opinion poll fee — at the registration counter.
Thinking Taiwan Foundation chief executive director Angela Chang, right, and Democratic Progressive Party (DPP) Secretary-General Joseph Wu, left, accompany DPP Chairperson Tsai Ing-wen in Taipei yesterday as she registers her candidacy in the party's presidential primary election.
Photo: Lo Pei-der, Taipei Times
Entering the race for the second time, Tsai said she has traveled extensively around the nation over the past few years and feels that Taiwanese are disappointed with the current political culture, and that there is very little trust in the government's ability to govern.
Despite suffering and difficulties, most people had not given up, Tsai said, but continue to struggle.
"The strong will of the public is not an excuse for politicians to sit and watch. Instead, someone must stand for the public so they feel that there is someone defending the nation, governing and looking after them," Tsai said. "I hope I have the opportunity to work for the public."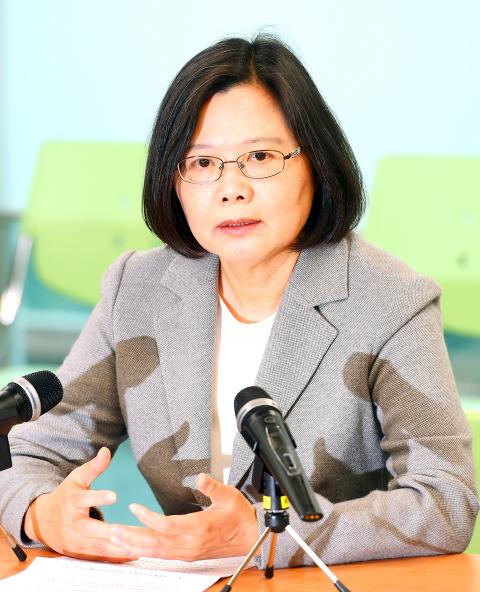 Democratic Progressive Party Chairperson Tsai Ing-wen speaks at a press conference in Taipei yesterday.
Photo: Lo Pei-der, Taipei Times
She also rejected Chinese Nationalist Party (KMT) claims that her policy agenda since the 2012 presidential election has been empty.
"Such criticism shows that the KMT has not really reflected on its failures," Tsai said. "The KMT has tried to copy my proposals on housing, social and economic policies, but since we have different values and visions, their attempts have not been successful."
Tsai said it is still too early to discuss her future campaign partner.
In related news, Taipei Veterans' General Hospital physician and DPP member Kuo Cheng-deng (郭正典) showed up at party headquarters at about 3:45pm yesterday to obtain a copy of the registration form, expressing his wish to sign up for the primary.
However, Kuo said he did not have the NT$5 million registration fee, and called on his friends and anyone who would support him to help him collect the money before today's registration deadline.
Besides Kuo, two DPP heavyweights — former DPP chairman Su Tseng-chang (蘇貞昌) and Tainan Mayor William Lai (賴清德) — have previously said that they would not take part in the primary.
Comments will be moderated. Keep comments relevant to the article. Remarks containing abusive and obscene language, personal attacks of any kind or promotion will be removed and the user banned. Final decision will be at the discretion of the Taipei Times.