Tsai Ing-wen declares candidacy
HERE TO HELP? The Democratic Progressive Party chairperson — and likely sole DPP candidate — said that she is focused on keeping the party a vital option for voters
Democratic Progressive Party (DPP) Chairperson Tsai Ing-wen (蔡英文) yesterday announced that she would join the party's primary for the presidential election next year.
"I have decided to join the DPP's primary for president," Tsai said on Facebook. "I have my dreams; I have my determination. I believe that resolute implementation of policies needs to be backed by calm thought."
"Breaking through difficulties requires a strong will," she said. "The nation needs reform, but pain will certainly accompany it; therefore I will unite with social forces and together we will solve the challenges the nation faces in a steady manner."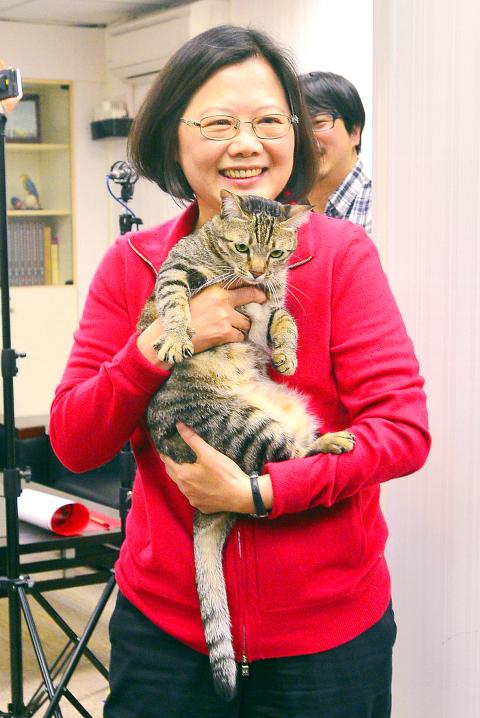 Democratic Progressive Party Chairperson Tsai Ing-wen cuddles her cat in Taipei on Friday.
Photo: Wang Yi-sung, Taipei Times
Tsai said that she does not mean to take Taiwan into "an age of the DPP or an age of Tsai."
She said she would instead create an age that belongs to the public, an "age of [a] new politics of transparency, honesty, public participation, tolerance, clear division of power and responsibility, as well as firm protection of national sovereignty," she said.
Tsai spoke of how she took over party leadership in 2008, when the DPP was facing its most difficult time, and resumed party leadership last year, after the Sunflower movement, when "party politics" became a negative term in the eyes of many.
She said she is focused on keeping the DPP vital and a good option in the political market.
Tsai said that the government should not just sit aside and watch people struggle to survive on their own and suffer under the leadership of President Ma Ying-jeou (馬英九), adding that this was why she decided to run for president again.
Tsai's office announced that she would register at 11am today as a candidate in the party primary.
Tainan Mayor William Lai (賴清德) and former DPP chairman Su Tseng-chang (蘇貞昌), who were both considered likely to enter the primary before announcing they would not, sent Tsai messages wishing her luck.
Comments will be moderated. Keep comments relevant to the article. Remarks containing abusive and obscene language, personal attacks of any kind or promotion will be removed and the user banned. Final decision will be at the discretion of the Taipei Times.