MAC minister resigns as Chang's charges dropped
Mainland Affairs Council (MAC) Minister Wang Yu-chi (王郁琦) yesterday offered his resignation after prosecutors decided not to indict former deputy minister Chang Hsien-yao (張顯耀) on charges of leaking confidential information to China, despite Wang's testimony that he had done so.
The Taipei Prosecutors' Office announced earlier in the day that it had closed the case because there was not enough evidence to support the allegations.
"After a thorough investigation over the past five months, there was insufficient evidence to indicate Chang Hsien-yao had revealed to the Chinese government our government's bargaining priorities and bottom-line conditions [on negotiations]," the office said in a statement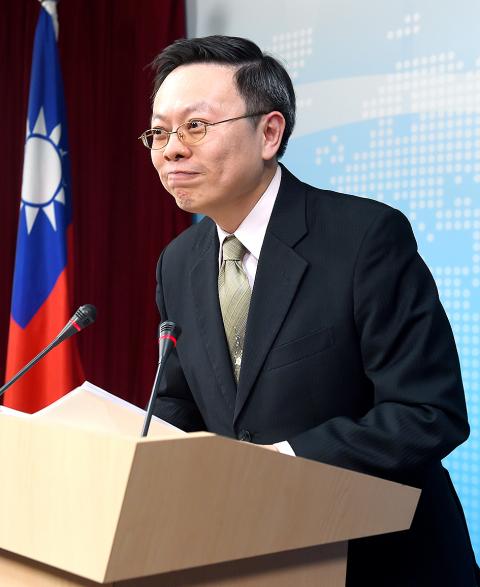 Mainland Affairs Council Minister Wang Yu-chi yesterday voices disapproval at a news conference in Taipei of prosecutors' decision not to prosecute former deputy council minister Chang Hsien-yao.
Photo: Chien Jung-feng, Taipei Times
The information allegedly leaked consisted of normal documents and information on visitors' itineraries and could not be construed as secret information, the office said.
Although Wang had testified that he was told by Taiwanese businesspeople in China that "Chang Hsien-yao was close to Chinese officials and that problems could occur in the future," prosecutors said they could not indict Chang Hsien-yao or others simply on "hearsay."
Chang Hsien-yao has denied allegations that he used his secretary Chang Su-ling (張素玲) and assistant Chen Hung-yi (陳宏義), who also worked for the E-United Group (義聯集團), to make telephone calls and send text messages and e-mails to provide information to Beijing between June 2012 and February last year.
Wang called a news conference at 12:30pm to voice his disapproval of the prosecutors' decision. Repeatedly saying that he found the rationale for not indicting Chang Hsien-yao "unacceptable," Wang said Chang had engaged in the "inappropriate divulging of information."
The prosecutors' statement showed that they had evidence with regard to his accusation, Wang said, without elaborating.
"Chang Hsien-yao might have acted in a way that shielded him from legal liability, but as a prominent political appointee responsible for handling cross-strait issues, what he did overstepped the bounds of propriety," Wang said.
Pressed by reporters, Wang refused to say what information had allegedly been leaked and to whom.
He only said Chang Hsien-yao passed classified documents to China via a Taiwanese businessperson who has investments in China before the two sides were about to start negotiations on that issue. He said the businessperson had told him about the handovers in the first half of last year, but that he did not take the information seriously because of a lack of evidence.
It was not until late July last year that he mentioned the allegations to then-National Security Council secretary-general King Pu-tsung (金溥聰), who informed him days later that the national security agencies had corroborated the information, Wang said.
Wang said he disagreed with the prosecutors' view that Chang Hsien-yao had not intended to reveal confidential information when he asked his driver, surnamed Lee (李), Chen and Chang Su-ling to keep the information he gave them in both paper and electronic forms.
"The Mainland Affairs Council has determined that the information was classified, but the prosecutors said it was not. Could it be that we might just as well give such information to China in the future? It does not make any sense that prosecutors did not consider divulging state secrets to people in the private sector to be illegal," Wang said.
Wang said that he had no regrets over how he had handled the case and if he had to do it all over again, he would act the same way, even if it meant he would have to resign himself.
The Executive Yuan announced on Aug. 16 last year that Chang had resigned for "family reasons."
However, the following day Chang issued a statement that said he had been forced to resign. The council then announced that he was being investigated for violating the National Security Act (國家安全法) for allegedly leaking information to China and that it had turned the case over to the prosecutors.
Meanwhile, Presidential Office spokesperson Ma Wei-kuo (馬瑋國) said the office stood by Wang in his handling of the case and had no further comments.
Sources said that former Straits Exchange Foundation vice chairman Kao Koong-lian (高孔廉) could succeed Wang if the minister's resignation is accepted.
Chinese Nationalist Party (KMT) deputy caucus whip Liao Kuo-tung (廖國棟) said that it would be inappropriate for the caucus to comment on Wang's offer to resign.
"It is true that Wang [vowed to step down if Chang Hsien-yao was not prosecuted], but what the Cabinet needs now is stability. I hope he would take the overall picture into consideration," Liao said. "This is not the time for anyone to leave [the Cabinet]."
KMT Legislator Wu Yu-sheng (吳育昇) downplayed rumors that Wang wanted to resign because he was also tired of dealing with the controversy over China's declaration of new aviation routes over the Taiwan Strait and the cancelation of a scheduled meeting with China's Taiwan Affairs Office Minister Zhang Zhijun (張志軍).
"He resigned purely over the decision not to prosecute. If he did not resign, I think, President Ma and King [who resigned last week] would be the ones to face repercussions. He [Wang] is acting as a firewall," Wu said.
Additional reporting by Jason Pan, Alison Hsiao and Wang Yu-chung
Comments will be moderated. Keep comments relevant to the article. Remarks containing abusive and obscene language, personal attacks of any kind or promotion will be removed and the user banned. Final decision will be at the discretion of the Taipei Times.